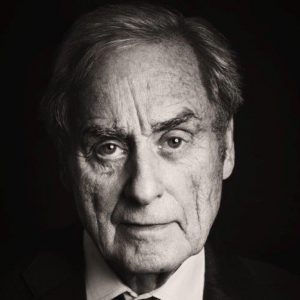 Sir Harold Evans
Sir Harold Evans is Editor-at-Large for Reuters. As former editor of The Sunday Times of London and The Times, Evans led many investigations, including the expose of Kim Philby, and the thalidomide scandal, the world's biggest drug disaster. He won justice for the Thalidomide children, followed by a landmark victory in the European Court of Human Rights. He was awarded a knighthood in the Queen's 2004 New Year's Honors list for services to journalism. He has written two critically acclaimed histories of America, The American Century and They Made America: From the Steam Engine to the Search Engine. His new book on the uses and abuses of the English language is called Do I Make Myself Clear?: Why Writing Well Matters.
In his own words: "Don't be frightened of grammar. Don't be afraid to write. One of the points I want to emphasize is, I don't care if you get that and which mixed up or who and whom. I'm much more concerned with, is the meaning clear?"
To buy this writer's work from our bookselling partner, Bookshop, click below. Doing so will also generate income for House of SpeakEasy Foundation – another way we're connecting you, and underserved communities of New York City, with the best writing of today.
BUY NOW