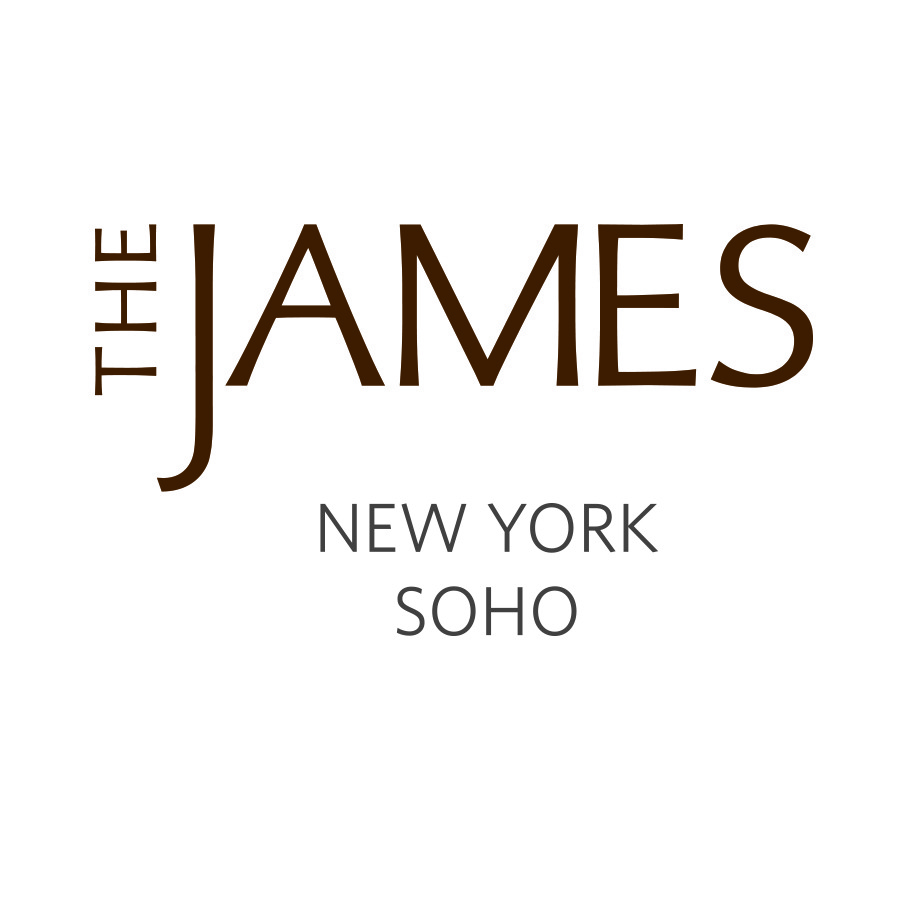 At the House of SpeakEasy, we are delighted to be partnering with The James New York in SoHo to ensure our special guests get the warmest welcome possible when they arrive in New York.
The James is a luxury boutique hotel in lower Manhattan. For its clientele luxury means pooches are allowed, there's access to a superb gym, spa, and a swimming pool on the roof (well, maybe not in January). It also means complimentary car service in the downtown area, free Wi-Fi and child-friendly activities for lil' James guests. Even better, the James is committed to ensuring its services are as green as possible. To cap it off, it's a keen supporter of non-profits in the surrounding area. It's fair to say that The James goes the extra mile.
Claudia Del Greco is the marketing and public relations manager for The James here in New York. I spoke to her about the artwork at The James and some of the great and not-so-great hotels in fiction and film.
Charles Arrowsmith: Thank you to all at The James for your support! We're all very much looking forward to our partnership. Who from our line-up are you most excited to see in New York?
Claudia Del Greco: My pleasure! We're so happy to be supporting great writing and connecting writers with appreciative audiences. I'm probably most excited to see Jay McInerney, whose writing really captures the essence of living in New York [Jay is appearing in our March 18 show, "Are You For Sale?", on sale soon – ed]. From his first novel, Bright Lights, Big City, in the mid-80s all the way to The Good Life, in which he captures life following 9/11 [see here for a full list of Jay's fiction]. For me as a New Yorker, his writing really illustrates iconic moments in New York history.
And… seeing Dan Stevens from Downton Abbey would also be pretty cool! [Dan appears in our May 20 show, "The Ink Runs Dry", on sale soon – ed]
CA: OK, so I've seen the trailer for Wes Anderson's new film, The Grand Budapest Hotel. I assume running The James is a bit like that, is it?
CDG: Luckily we have not had any, er, extreme instances here (knock on wood!) but we do get interesting requests. Our concierge team is extremely dedicated and committed to our guests. It definitely would be interesting to see this notable cast working at our hotel in SoHo, though. Just an idea…
CA: Actually, film and literature are full of hotels a little bit ookier, kookier and spookier than real life: the Overlook in The Shining, the Hotel New Hampshire, Fawlty Towers… Where would you book a stay if you could?
CDG: Don't forget the Bates Motel from Psycho! But none of those films are really my style… Can I go with a safe response and stick with the mountain lake resort from Dirty Dancing?
CA: Oh OK, then… Hey, from nosing around a bit, I see that The James has a really smashing art collection. Can you tell us a bit about it, and what the highlights are for you?
CDG: The James as a brand (in New York as well as Chicago and Miami) is invested in being artistically inspired and supporting emerging artists with Art@TheJames. In New York we collaborate with curator Matt Jensen, who helps us identify artists that speak to the hotel's aesthetic.
Art@TheJames has helped elevate our profile in the arts community, and has led to some fantastic partnerships and collaborations that are open to both hotel guests and the public. Just recently we launched our Winter Art Garden, where we worked with Recess Art to identify emerging artists who can bring their installations to life in our outdoor Urban Garden during the winter. Hope you guys have a chance to come check it out!
CA: The theme for our sold-out opening gala is "Plays with Matches". I assume The James has pretty strict rules on this?
CDG: You guys make it sound so enticing! "A single spark can change the world, or just throw shadows before our eyes…" But yes, we do have strict rules; just ask our Director of Engineering, who would most definitely break out the fire code inspection book. That'll be an interesting read for you guys!
CA: Thanks, Claudia!
Our opening gala is sold out! You can book tickets for our February 24 show, "This Is Not A Man", at City Winery NYC here.