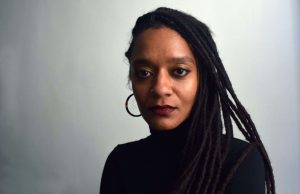 Tatyana Fazlalizadeh
Tatyana performed on our virtual stage for Seriously Entertaining on March 1, 2020, speaking on the evening's theme, "As Good As Gold." Listen below. 
Tatyana Fazlalizadeh is a Black/Iranian visual artist and Oklahoma City native. She is a painter whose work ranges from the gallery to the streets, using visual art to address the daily oppressive experiences of marginalized people through beautifully drawn and painted portraits. Her street art series, Stop Telling Women to Smile, can be found on walls across the globe. She is currently the inaugural Public Artist in Residence for the New York City Commission on Human Rights, a year-long residency that will present the experiences of anti-black racism and sexual harassment experienced by New Yorkers through public art. Tatyana has been profiled by The New York Times, NPR, MSNBC, The New Yorker, Time Magazine, and she was named one of Brooklyn's most influential people by Brooklyn Magazine. She is a 2015 Forbes 30 Under 30 recipient. She has lectured at the Smithsonian National Museum of African American History and Culture, Brooklyn Museum, New Orleans Contemporary Arts Center, several universities, including Stanford, Brown, USC, and Pratt Institute. Tatyana's work can also be seen on Spike Lee's Netflix series, "She's Gotta Have It," for which she is also the show's Art Consultant. Her first book, Stop Telling Women to Smile, was published in February 2020 with Seal Press. She currently lives and works in Brooklyn, NY.
Purchase this writer's book via our virtual storefront on Bookshop.org, the bookselling platform that supports independent bookstores. A portion of proceeds from all book purchases will go toward helping support SpeakEasy's nonprofit mission and our literary programs on stage, in schools, and on the road with The SpeakEasy Bookmobile.
BUY NOW