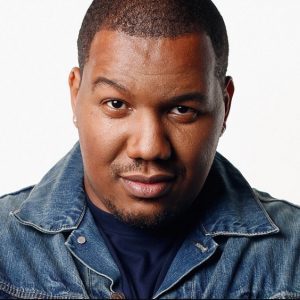 Travon Free
Travon performed on stage for Seriously Entertaining at Joe's Pub at The Public Theater on April 6, 2017, speaking on the evening's theme, "The End My Friend."
Travon Free is a two-time Emmy winning and Peabody winning television writer, actor, and comedian from Compton California. He's been a writer/producer for many shows including Adam McKay's upcoming Laker's drama, Showtime on HBO, Black Monday starring Don Cheadle on Showtime and Lena Dunham's Camping on HBO and was co-head writer for Full Frontal with Samantha Bee on TBS. His other writing and producing credits also include The Daily Show with Jon Stewart on Comedy Central, Any Given Wednesday With Bill Simmons on HBO, Larry Wilmore's White House Correspondent's Dinner, Hood Adjacent with James Davis on Comedy Central and many more. His writing work can also be found all over the web as one of the most sought after young comedic voices on social, political and pop culture issues.
He's also been featured and seen on John Oliver's New York Stand Up, Tosh.0, Chelsea Lately, The Stephanie Miller Show, the "Twitter Come Alive" national comedy tour and "The Daily Show Political-ish Stand Up Tour". He was also co-host of a podcast called The Room Where It's Happening: A Hamilton Fancast
He currently lives in Los Angeles with two dogs who aren't his and over 250 pairs of shoes that he often referred to as his "children".
In his own words: "If you really want to devote yourself to this life, it will happen. You just to have to never stop doing it….Write how you want to write because there's a show for your voice, you just have to find it."