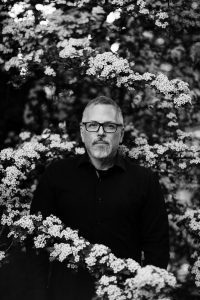 Jeff VanderMeer's New York Times-bestselling Southern Reach trilogy has been translated into over 35 languages. The first novel, Annihilation, won the Nebula Award and Shirley Jackson Award, and was made into a movie by Paramount. Other work includes Dead Astronauts, Borne (a finalist for the Arthur C. Clarke Award), The Strange Bird. These novels, set in the Borne universe, are being developed for TV by AMC and continue to explore themes related to the environment, animals, and our future. His most recent novel is A Peculiar Peril (out last month) and his forthcoming novel Hummingbird Salamander has been optioned by Netflix and Michael Sugar (Anonymous Content). His short story "Secret Life" has been made into a graphic novel by Theo Ellsworth.
What are you reading right now for solace or escape?
I like Eduardo C. Corral's poetry a lot, so I'm reading his collection Guillotine at the moment.
If you could live inside a fictional world, which one would you choose?
I'm afraid I love this world too much to answer the question. But I'm thinking of one particular fantasy world right now that I'd live inside so I could join whatever revolution is trying to fix it.
Are there any quotes you use to inspire you now or anytime?
"Joy reminds us why we fight" – Dead Astronauts
"When you're grateful to them for giving you the things you should have anyway, ask yourself why." – Finch
I hate to quote from my own novels, but when I include quotes like this in them they're usually refinements or paraphrases of things that I've encountered in my reading and thus they speak to me.