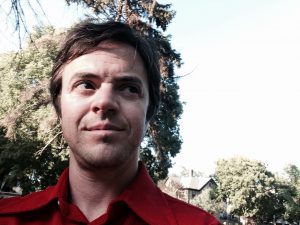 Matthew Gavin Frank is the author of The Mad Feast and Preparing the Ghost, which was reviewed on the front-page of The New York Times Book Review. He teaches creative writing and lives in Marquette, Michigan. His new book is Flight of the Diamond Smugglers: A Tale of Pigeons, Obsession, and Greed Along Coastal South Africa, which is available in our Bookshop storefront. He will be joining Marisa Acocella, Walter Mosley, and Renee Watson, on February 23rd to tell stories tied to the theme "I Have Dreamed." Register here for the show!


What are you reading right now for solace or escape or entertainment?
Things That Are by Amy Leach, and The Book of Delights by Ross Gay
If you could live inside a fictional world, which one would you choose?
The world in which the passenger pigeon still exists, overtaking the sky on their great migrations.
Are there any quotes you use to inspire you?
"To be sensual is to respect and rejoice in the force of life, of life itself, and to be present in all that one does, from the effort of loving to the breaking of bread." –James Baldwin
What writer would you like to share with the world and why?
Sarah Bates. Her new hybrid genre book, Tender (published this year, 2020, by DIAGRAM/New Michigan Press) is essentially timely, formally innovative, and nothing short of breathtaking.