ReadEasy: a literary submarine cruising the depths of the internet.
This week: writers recommend writers. That's nice. Read on for top tips for #FridayReads et al from Karl Ove Knausgaard, Margaret Attwood, Stephen King, Elizabeth Gilbert, Joyce Carol Oates, and David Sedaris.
(Pause to get a coffee. This is not part of the found object. :] ) NB the gold standard for #TwitterFiction is Jennifer Egan's "Black Box."

— Margaret E. Atwood (@MargaretAtwood) May 13, 2015
…written during the Twitter Fiction Festival. Very well, Margaret: here is Jennifer Egan's "Black Box".
Knausgaard recommends…
Holly Hunter, Brandon J. Dirden and Corey Stoll were the readers at Symphony Space's packed-out "Evening with Karl Ove Knausgaard" last Wednesday, which also featured an interview with the man himself, nimbly, wittily conducted by Hari Kunzru. "I wanted to be a writer for almost all the wrong reasons," the great Norwegian confessed to Kunzru; "I had failed as a rock musician." Rock music's loss was literature's gain — Zadie Smith has compared Knausgaard to crack, and others are just as ecstatic. All this despite the critical near-consensus (bordering on cliché) that his six-volume autobiographical novel My Struggle (published in hardback by Archipelago Books and in paperback by FSG) is in many ways quite banal. Its own author has described it as "anti-Proust". In Book 4, just published in the US, he recalls his late adolescence. "The hardest thing was not being clever," he said — not, in other words, including any insights gained later. "I want to make a representation of the feeling of being seventeen… You can't really do that with clever writing." And his choice of reading matter? Dirden read "Axolotl" by the late Julio Cortázar, while Hunter — on red-hot form — gave vivid life to the surreal "Origins of the Family", by Ben Marcus. "I'd never read anything like it," Knausgaard enthused. "That's what you look for as a reader, something you've never read. It's very strange and kind of very funny and completely beautiful and totally original."
I love this book so freaking much I bought it twice. I suggest you do the same. Lynda Barry is a force of awesomeness pic.twitter.com/ny63ehBpr9

— Elizabeth Gilbert (@GilbertLiz) May 13, 2015
We recommend…
¶   "No one is being murdered or hauled off by the American government to prison for writing a novel… The fear of causing offence, the fear of ruffling the careful layers of comfort, becomes a fetish." Chimamanda Ngozi Adichie gave a rousing and provocative speech to close out the PEN World Voices Festival earlier this week, as reported in the Guardian.
¶   "For the television generation he is remembered as an enormously fat and garrulous man with a booming voice, seen most often on talk shows and in commercials where he somberly assured us that a certain wine would not be sold 'before its time,' whatever that meant…" The New York Review of Books has marked Orson Welles's centenary by opening its archives. Among the treasures is this typically brisk and pithy summary of the man's career by Gore Vidal.
¶   "The White House's story might have been written by Lewis Carroll: would bin Laden, target of a massive international manhunt, really decide that a resort town forty miles from Islamabad would be the safest place to live and command al-Qaida's operations? He was hiding in the open. So America said." Seymour Hersh's blockbuster essay "The Killing of Osama bin Laden", in the London Review of Books, has sparked a big debate. Essential reading this week.
The new Sarah Lotz novel,DAY FOUR, is really good. USA edition comes out June 15. It's the cruise ship from hell.

— Stephen King (@StephenKing) May 11, 2015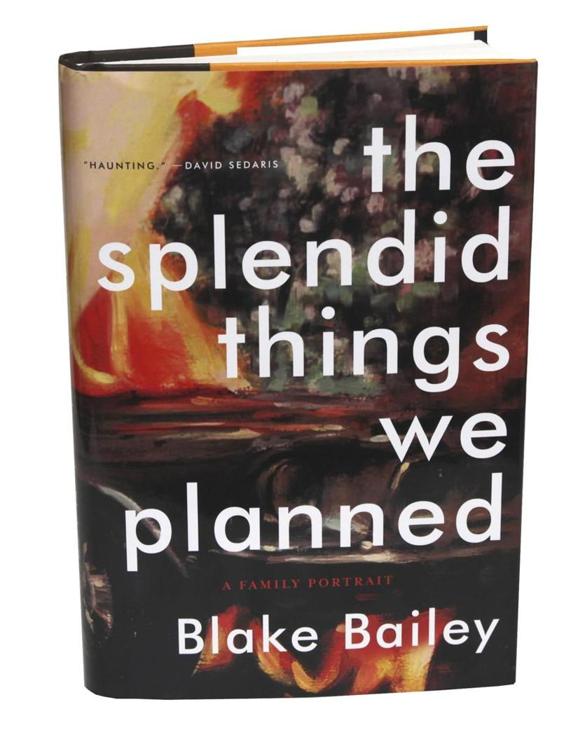 Sedaris recommends…
David Sedaris has spent his latest reading tour honing his next book, tentatively titled Theft By Finding, and promoting Blake Bailey's The Splendid Things We Planned (Norton, 2014), which he did so often on Wednesday night that it became a sort of running joke. Bailey was actually there, too, and turned out to be a superb opener for Sedaris as he excerpted The Splendid Things in front of a delighted BAM crowd. The lesson we learned? "Make sure you hide your dildos and crack pipes before you take off on a drunk-driving spree." Guess read the book to find out more? Sedaris himself was, as always, funny in ways both subtle and not. If his readings of recent stories "Calypso" and "Spa Music" weren't enough, his dive into the thirty-some years of diaries that will, he says, form the basis of Theft By Finding prompted even the most reserved of Brooklynites to honk with laughter. Many of these entries were one-liners, or pains-taken puns (though no less funny for it). Others were more anecdotal, tales from his epic tour — usually involving the strange things he's been asked by his readers across America. David, your public awaits.
Beautiful memoir/ double portrait of poet & her mother/ Tracy K. Smith's "Ordinary Light."

— Joyce Carol Oates (@JoyceCarolOates) May 14, 2015