After hearing from our six guest writers in April on the subject "One Simple Rule", you might think we'd have some pretty solid advice for you. We don't. Write what you know? Well, sometimes it's best not to. Everyone should know CPR? Granted; hard to argue. Back up your work? Phew, yes, we'd all have saved ourselves some stress by following that one. Break all of the rules, always? We don't like to be too prescriptive here… Well, we'll leave you to judge, as you enjoy the wit and wisdom of Elif Shafak, Tom Rob Smith, Amber Tamblyn, Lisa Robinson, Branden Jacobs-Jenkins, and Beau Willimon.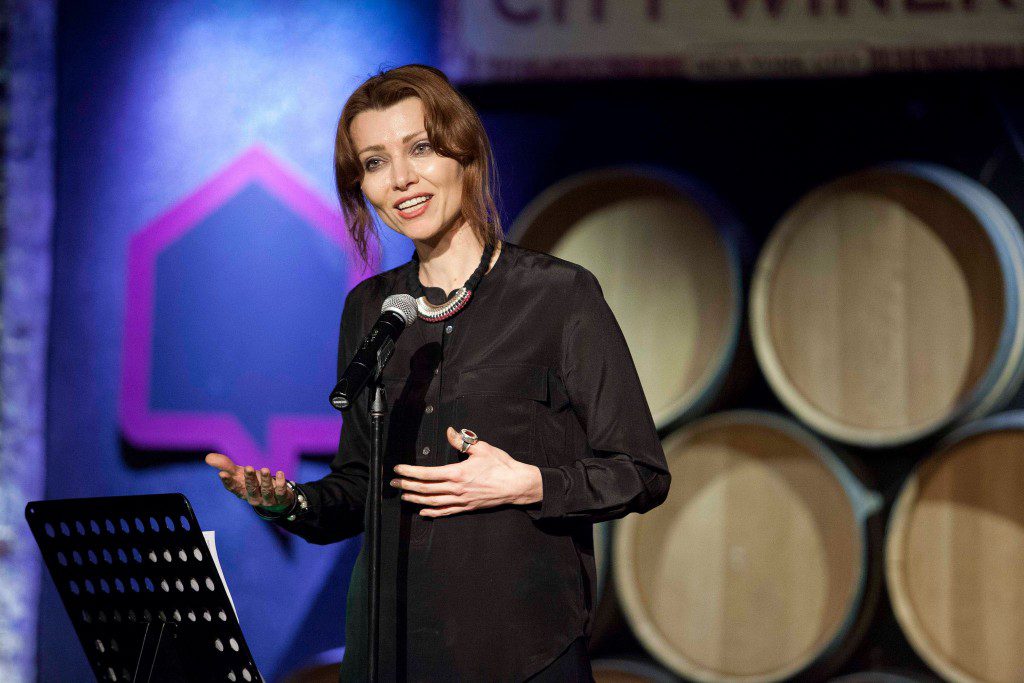 Elif Shafak was first up to the mic. An industrious author, Shafak has published several novels, numerous articles, and a collection of nonfiction. She's a TED Talker. She's Turkey's most widely read female writer. She's perplexed, then, by what she perceives to be a cult of idleness among many Middle Eastern men. "All across the Middle East, if you travel," she said, "you will come across thousands and thousands of men — and always men — just sitting, playing backgammon, chatting — smoking, mostly — until it's time to go home."
These men are not the subjects of her work, though. "What I'm interested in is people who just can't stand still, who want to go beyond the boundaries, beyond the frontiers that're drawn in front of them. I call them the learners: people who love learning." Such a man is Turkey's one-time chief royal architect Sinan, the subject of Shafak's latest novel, The Architect's Apprentice, who built a large number of Turkey's most impressive mosques. And yet Shafak finds herself returning to idler men when looking for her one simple rule… Watch Elif's story in full.
"You might not have guessed whether I have or haven't run a sandwich shop, but I'm pretty sure you all know that I didn't live under Stalinist Russia," began Tom Rob Smith, taking up that old chestnut, "write what you know." Smith grew up gay in the UK in the 1980s at a time when schools were forbidden by law to "promote homosexuality"; in practice, to discuss it in any way. Stalinist Russia it might not have been, but the paranoia and fear of exposure that eat away at the characters in his Child 44 trilogy are surely informed by his earlier experience.
There's a much more direct connection between Smith's life and his fiction in his latest thriller, The Farm. A phone call from his father telling him his mother had been committed. A phone call from his mother telling him his father was telling lies. Dramatic airport scenes, criminal allegations. All this and more really did happen to Smith, as well as to the protagonist of his novel. So how can you write what you know when you don't know what you know anymore? Watch Tom's story in full.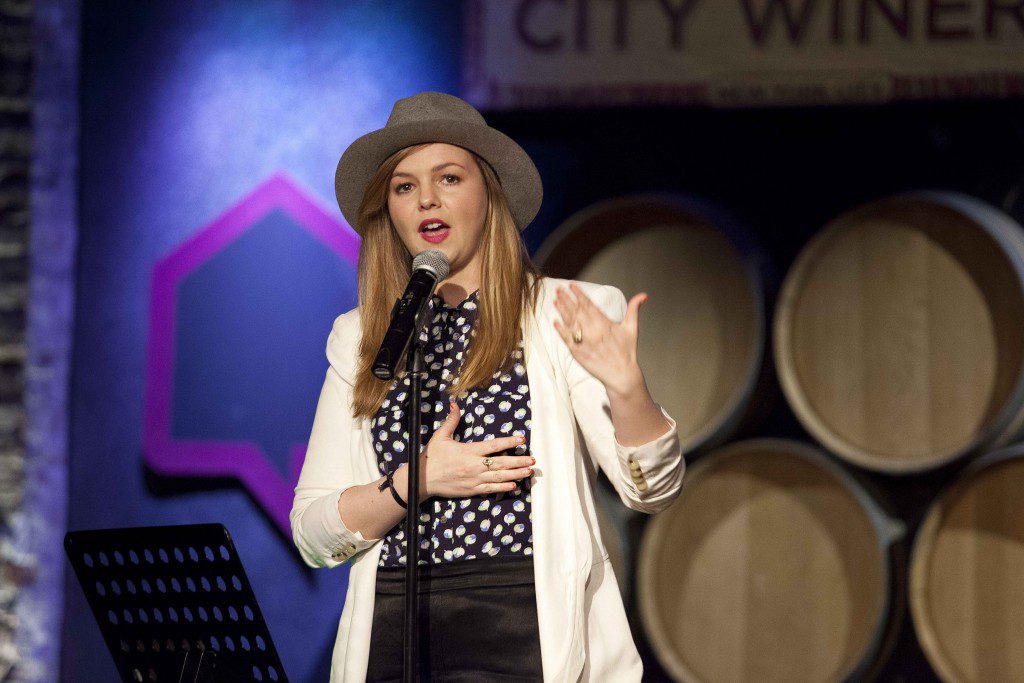 "Six years ago, the actress Brittany Murphy died," said Amber Tamblyn, next up to the plate; "potentially of a drug overdose that was perhaps self-inflicted; nobody really knows… She actually died in the shower, crumpled over her own body. I thought, wow, what a powerful juxtaposition in a world and an industry that treats people like objects, and is such a standard for voyeurism in a negative way. I wrote a poem for her, and then began writing poems and studying the lives and deaths of other actresses her age, basically any woman under the age of forty…"
Over the ensuing six years, Tamblyn produced the poems that make up Dark Sparkler, her latest collection — a book she described as being about "the way women are treated and seen and viewed and loved and hated". She has a strong personal connection to her subject, having begun her acting career as a child (she was discovered in a production of Pippi Longstocking at school). In an extraordinary, moving story, she told of how her obsession with these deaths and suicides led to a moment of personal revelation and an extraordinary coincidence at a reading in Seattle. Watch Amber's story in full.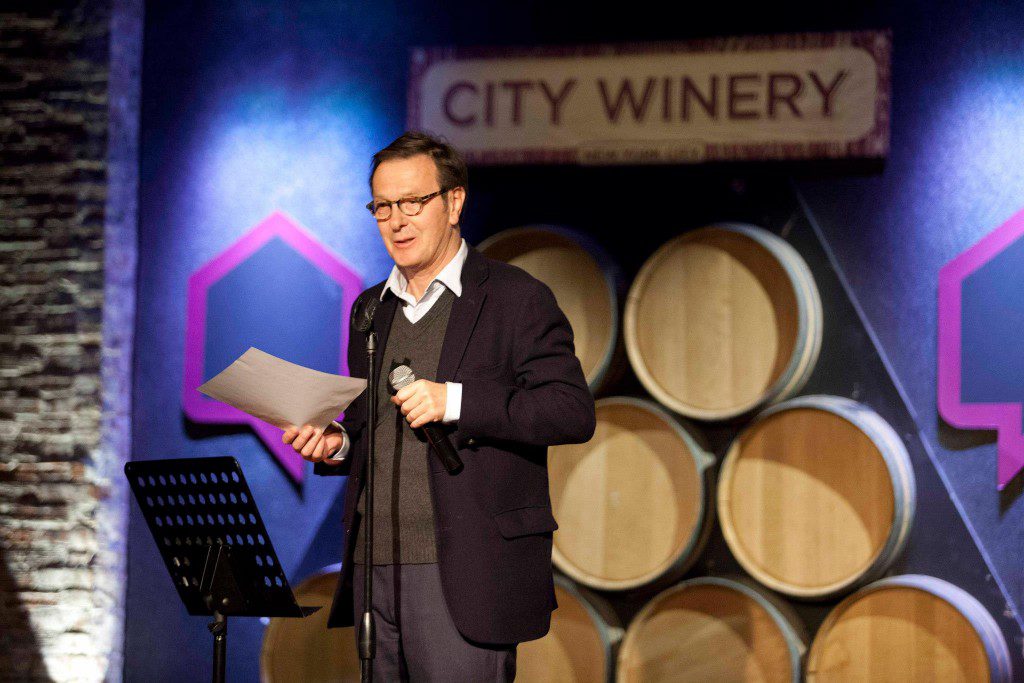 Hugo Guinness, the Oscar-nominated writer of The Grand Budapest Hotel, was the host of this month's Tip of My Tongue. You can play along at home! Just watch this video and then highlight the text below to find out the provenance of our three mystery passages.
1. The Age of Innocence by Edith Wharton
2. Alice's Adventures in Wonderland by Lewis Carroll
3. The Scarlet Letter by Nathaniel Hawthorne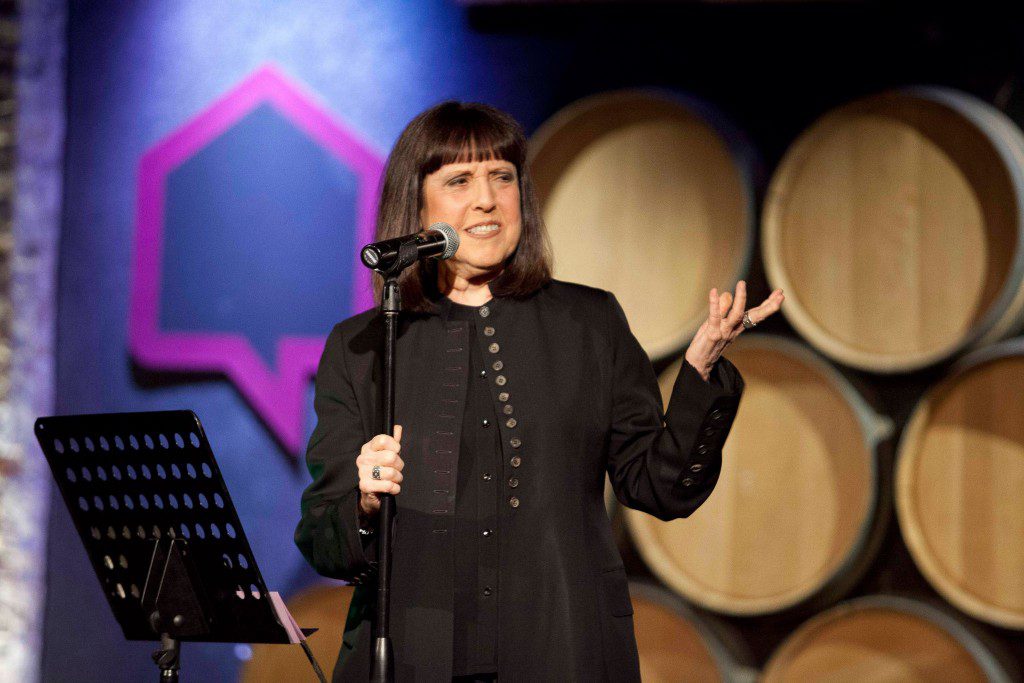 "I said, 'I don't how to write. I've never written in my life.' And he said, 'You know how to talk; you know how to write.'" So began Lisa Robinson's career as a rock journalist. "I didn't go in with a list of questions; I was just talking to people; I was interested in them." John Lennon, Michael Jackson, Freddie Mercury, Jimmy Page… All have spoken into Robinson's tape recorder over the years. So what has she learned?
"I'm trying to think of one simple rule. There's a few. First of all… I never get up before noon; I never got off that. Nothing happens in the morning! I put a lot of ice in wine, because it helped me keep drinking with them all night… But if I have to pick one rule, I would say: back up your work." Watch Lisa's story in full to find out why she still prefers analog…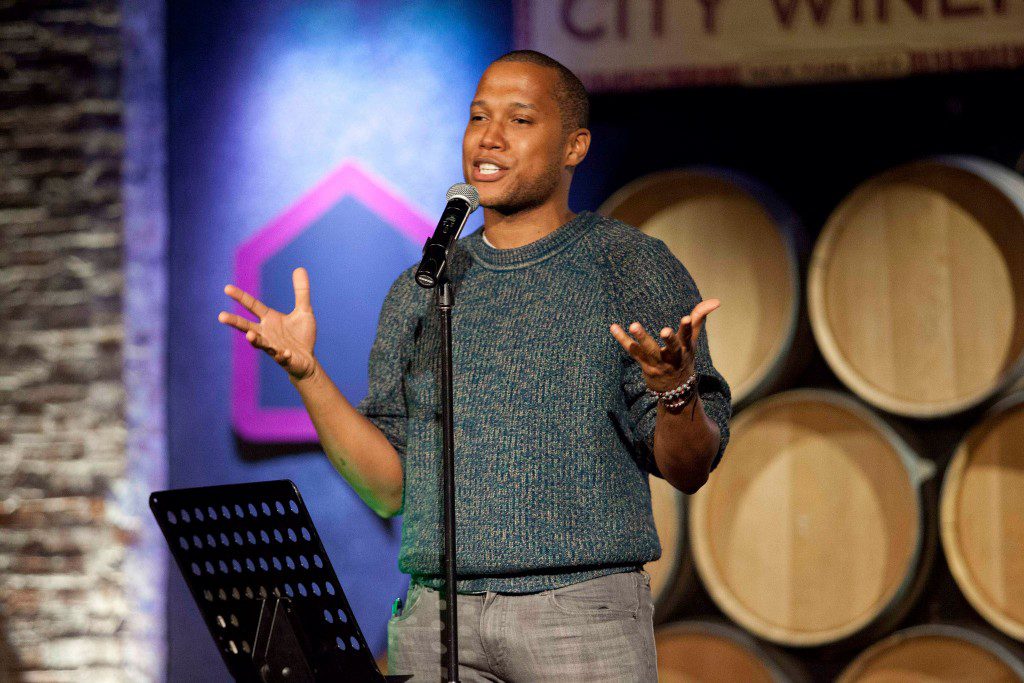 Branden Jacobs-Jenkins is sceptical of his own press. "There's a piece of paper on your desks and there's a New York Times quote that says, 'He's having a starry moment'. I don't know what that means. What is a starry moment? I thought about stars. They begin with really violent explosions, and then they become black holes that nothing escapes from…"
It certainly wasn't all starry moments. His first play, Neighbors, staged using actors in blackface, was hugely controversial. ("The show closed and I immediately moved to Berlin.") During production on his next play, he had to take over from the first director, who'd quit, and then the Village Voice blog started picking up on back-stabbing backstage tittle-tattle…  ("I moved back to Berlin. I watched all of Mad Men.") But that was nothing compared to his next production…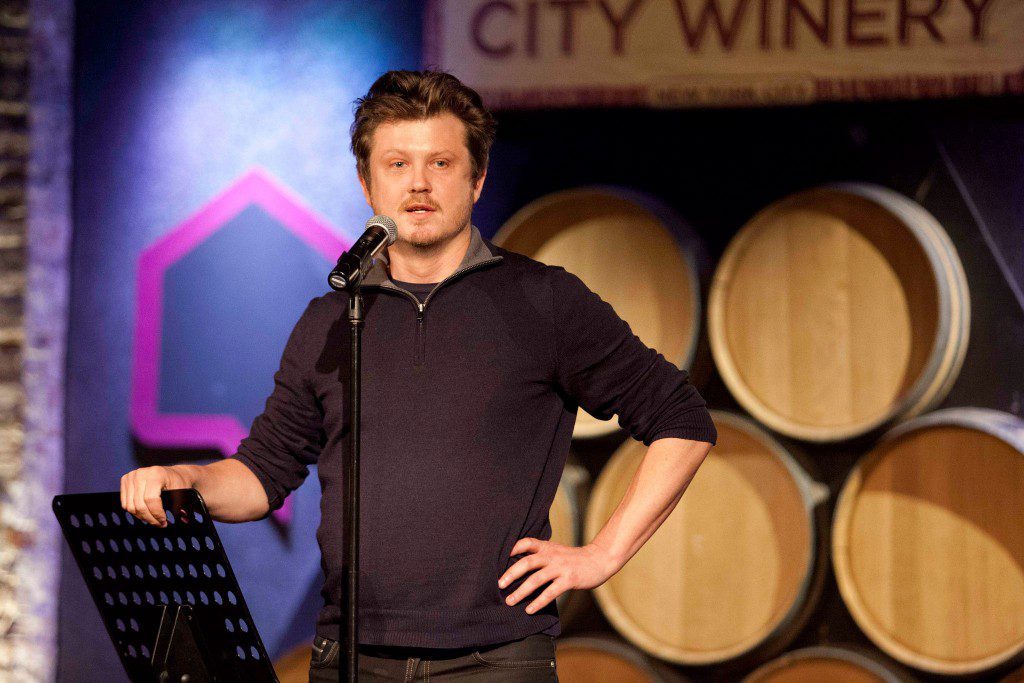 "One of two things is gonna happen: I'm either gonna finish my story, or I'm gonna have to pee. And whichever of those two things happens first will be the end of this evening…" Beau Willimon's first rule was to ignore the House of SpeakEasy's stopwatch. But no one was complaining, as he kept the audience at City Winery roaring over his tale of (botched) religious conversion, all aimed at winning the hand of a minister's daughter. "I sat down with my parents one night and said, 'Mom and Dad, I want to go to a religious retreat in Western Massachusetts to study the Bible.'"
Throw in some marijuana, a little speaking in tongues, a night in Niagara Falls, and a "rave church" in Toronto, and the results are Seriously Entertaining. Watch Beau's story in full.
Book tickets to see our next Seriously Entertaining show, Summertime Blues, featuring the amazing line-up below, here.