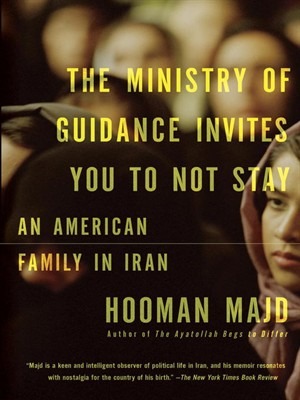 The Ministry of Guidance Invites You to Not Stay:
An American Family in Iran
by Hooman Majd
NY: Anchor Books, 2014; 272pp
"I advise you not to hang around the Americans very much." This friendly advice, given to the author and journalist Hooman Majd by a doorman at a hotel in Tehran, while he is travelling with a CNN crew, in some ways typifies his experience at the hands of Iranian officialdom. In The Ministry of Guidance Invites You to Not Stay: An American Family in Iran, Majd chronicles the year he recently spent with his (American) wife and baby son living in his motherland. It was the year of what Majd calls Mahmoud Ahmadinejad's "big sulk;" the Occupy movement; the main events of the Arab Spring. At a fraught political juncture, there is perhaps inevitably a strong Kafkaesque flavor to much of Majd and his friends' interactions with the police and the government. But while this excellent, concise work of social commentary doesn't shy away from politics, its fascination and pleasure lie just as much in its gentle revelation of everyday life in Iran. Nostalgia, an insoluble emotion at the best of times, ghosts both what has been and what might be. Majd's acquired Americanness has sharpened in him a strong sense of what it means to be Iranian; the similarities and differences between these two very different national characters are what give his book its great imaginative pull.
This isn't Majd's first foray back to the homeland. It's a subject he mined with similar wit and sophistication in The Ayatollah's Democracy: An Iranian Challenge (2010) and The Ayatollah Begs to Differ: The Paradox of Modern Iran (2008). He's written about Iran for The New Yorker, the New York Times, Foreign Affairs, and Newsweek; he's been Jon Stewart's guest on The Daily Show and Chris Hayes' on MSNBC. He's America's go-to guy for the word on Iran, and it's easy to see why. The Ministry of Guidance Invites You to Not Stay is a beguiling read, mixing a distinctively American concern for simple pleasures — how to acquire liquor, DVDs, high-speed Internet — with an inherited understanding of a culture that to many Americans is not only alien but frightening.
We learn that the projected image of Iran, or at least the image as perceived by the West, is illusory. It's not the Persia of A Thousand and One Nights. It's not the Iran that rose to the surface of American consciousness during the Islamic Revolution and the storming of the US Embassy in Tehran in 1979 (a building that, some thirty-five years later, still has the words "American cannot do a damn thing" emblazoned on its walls). And it's certainly not the crazed, nuclear-happy despotate of contemporary popular myth.
For the most part, the Majd family's life in Tehran is a middle-class existence of a species with most others in the world. Iran has the highest rate of higher education and the greatest Internet penetration in its region. Healthcare is cheaper and qualitatively comparable to what one finds in the US. Civilian-intellectual life is punctuated with house parties and political discussion, much as it is elsewhere. A weekend by the Caspian is like a spell in the Hamptons for Tehranis. Despite new restrictions on her appearance and activity, Majd's wife, Karri, quickly and willingly adapts to Iranian life; his son, Khash, comes to think of their small apartment as home and shrieks delightedly when they return there at the end of a weekend away.
There is much that's extremely attractive about the culture Majd describes:
It is an experience that many tourists and visitors to Iran share — Iranians, even deeply pious ones, opening up to a foreigner, treating them as guests of honor in their own country no matter their origin, and displaying the kind of hospitality to strangers that is unheard of in the West.
Then there is the treatment of children, who are considered particularly precious in Iran.
Too precious at times, it seems to me: mothers refer to their sons as doodool talah — golden penis — which has only resulted in millions of Iranian men the world over truly believing that their manhood is gold, to be treasured by every woman they meet and even those they don't.
Nevertheless, Khash certainly seems to enjoy the attention. A man the Majds encounter one day in a park even dedicates a poem to the little boy.
At the end the man had penned a little note, and signed his name. "I was sad," it read, "so I came to the park. The smiling Khashayar's playing around and his happiness brought a smile to my lips. Wishing everyone happiness, freedom, and love." Indeed. Love to all. That was my Iran, and my Tehran — its warts receded just a little in the shadow of humanity.
Shadows are cast in all directions, though. One of Majd's friends was imprisoned after the 2009 elections, kept in solitary for two months without charge, interrogated, accused of organising the protests that accompanied the elections' outcome, and tried in the Revolutionary Court, despite having done little more than being ill-placed and ill-timed. The Gasht-e Ershad, Iran's "morality patrols," are a constant ominous presence. Government control of internet speeds is damaging for both porn fans and students of political unrest: "videos of fornicating couples, or of protesting citizens for that matter, are impossible to watch at [128K]." And diplomatic relations with the West continue to wax unstable, with the expulsion of the British from Tehran in 2011 (leaving behind, briefly, a refugee Norfolk terrier-Jack Russell cross).
How this will play out is unclear. Majd's friend Khosro, at the pessimistic end of the spectrum, responds to all sniffs of a putsch or uprising with the blanket "Absolutely nothing will happen." And there's certainly a sense, as our author points out, of plus ça change… in Iranian politics. What would certainly help in the short term is a relaxation of the mutual suspicion that exists between Iran and the West. As Majd beautifully demonstrates, there is much our cultures share. And with Iranian cinema and literature finding ever-wider and larger audiences outside their homeland, we can see the work of imaginative diplomacy beginning.
Hooman Majd will appear at our next Seriously Entertaining show, No Satisfaction, on November 17 at City Winery. Book tickets here. You can buy Hooman's books at McNally Jackson and follow him on Twitter. Also, definitely check out his supercool style blog, The House of Majd.