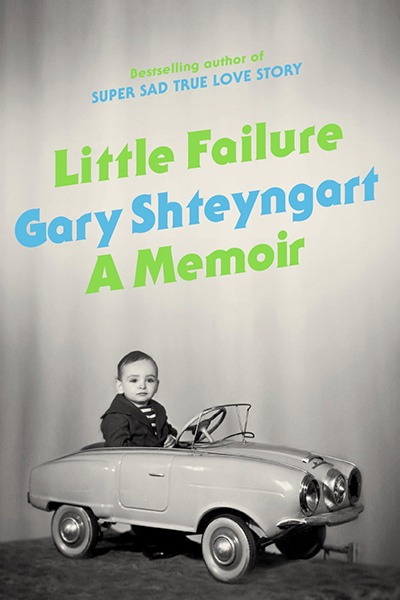 1979. Coming to America after a childhood spent in the Soviet Union is equivalent to stumbling off a monochromatic cliff and landing in a pool of pure Technicolor.
— Gary Shteyngart
I'm pleased to report that Gary Shteyngart's memoir, Little Failure, in no way lives up to its title. Instead, it's a brilliant, milk-snortingly funny ride from 1970s Leningrad through 1980s Queens to 1990s Ohio and beyond. The humour you might expect from the novelist behind The Russian Debutante's Handbook (Riverhead, 2002), Absurdistan (Random House, 2006), and Super Sad True Love Story (Random House, 2010) is all present and correct. But that's not all. Little Failure is also a sad-funny-awkward portrait of Shteyngart's parents, whose Russian ways and tiny failures of assimilation so acutely embarrass and enrage him while growing up. Returning with them to Russia as an adult toward the end of the book, he makes discoveries about their past, his own prehistory, that shed new light on the rest of the book's action.
Much of Little Failure concerns Gary's difficult formative years following his emigration in 1979 (he was born in 1972). Debilitating asthma prevents his becoming athletic; in the wake of Reagan's "evil empire" speech, his Russian-ness alienates him from his Jewish schoolmates at the Solomon Schechter School of Queens; his appearance ensures he is sometimes mistaken for a waiter by the same Waspy girls he's trying to impress. Fortunately, all this is shot through with great wit and pathos. Little Failure is actually very funny indeed, even when it's dealing with painful subjects like its author's childhood circumcision or his later romantic problems (in 1999, "the woman I'm sleeping with has a boyfriend who isn't sleeping with her"…) It's a humour that isn't just self-deprecating; it's often self-eviscerating. On making friends: "We're suspicious of each other at first, but I'm an immigrant and she has one eye, so we're even." On education: "I can't speak English too good, so I'm demoted by a grade." On changing his name to Gary: "We've thought it over as a family, and Igor is Frankenstein's assistant, and I have enough problems already."
This vein of self-effacement extends to his birthplace. "To call a gastronom a supermarket," Shteyngart writes, "would be to insult supermarkets everywhere. Rather it is a uniquely precapitalist space in which ham at times appears and then very rapidly disappears. The ham is often not precisely ham, but the fat around the ham." In the USSR, "before yoga, waiting in line for an eggplant for three hours could constitute a meditative experience." His youthful love of Lenin is particularly entertaining. "Here is my frozen King Kong-sized Lenin," he writes of the enormous statue in Moscow Square that occupies a special place in his childhood imagination: "my love, nearly jumping in the direction of nearby Finland, with his hand pointed emphatically at the horizon, with his coat sexily unfurling in the wind." One of his earliest writing efforts, encouraged by his grandmother with cheese bribes, is entitled Lenin and His Magical Goose and concerns Vladimir Ilyich and his eponymous fowl friend invading Finland. Such humorous recollections haven't made Shteyngart popular in Russia, as he tells David Naimon in an interview on the Between the Covers podcast, but it provides the tension that drives his work, and he comes to realise that the paradox of being both an inauthentic American and an inauthentic Russian "is the true subject of so-called immigrant fiction."
After leaving Solomon Schechter, Gary finds himself at Stuyvesant, a school which "requires top marks on a math test that students from the dweebiest countries can easily achieve." Nevertheless, surrounded by immigrants from other countries (mostly Asian, it seems), he is no longer the smartest kid in class, and he comes to dread his report cards. "It tells you what your station in life will be," he explains. "Because the immigrant children of Stuyvesant do not have backup plans. We will not be filling in at our daddy's firm or taking a gap year in Laos. Some of us are from Laos." It's around this time that he starts to feel a much greater sense of assimilation; he starts to feel more American. In the Reagan '80s, he becomes an ardent Republican, and writes reams of crypto-racist sci-fi, now all in English. There's a wonderful scene in which he hopes at last to get laid at the Manhattan headquarters of Bush Sr's 1988 presidential campaign.
Booze, pot, and Oberlin College effect a change in Gary's politics. At Oberlin, the soundtrack is all Ice Cube and Talking Heads; being drunk and stoned is no impediment to a perfect GPA; and a bike to a student is "one of the few objects they may fully possess without ideological heartache." Gary falls in love, with a woman who goes by J.Z. He visits her in North Carolina; she comes to New York. He makes good friends with whom he feels he can share things. Back in New York, he falls in with an older writer called John, who helps push his own writing toward a publishable state. He breaks the news to his parents that a career in law or one of the Great Professions isn't really for him, and quickly finds success with The Russian Debutante's Handbook.
Little Failure is joint-dedicated to Shteyngart's parents and his analyst, for reasons which become apparent. It opens with Gary panic-attacking in the Strand Book Annex on Fulton Street (now sadly no longer) over an image of Chesme Church in Saint Petersburg, the site of an unspecified but evidently traumatic childhood event. In proper psychoanalytic style, the event recurs; he has unexplained nightmares about helicopters. Why? I wouldn't wish to spill the secrets of the final, somewhat elegiac chapter, in which Gary and his parents return to Saint Petersburg — in his father's case for the first time since 1979. Russia is a haunted house for the Shteyngarts, and the revelations of Gary's parents as they wander the streets of the city where they once lived give some context to the darkness that their son experiences. As the book comes full circle, and to borrow a title from another Russian emigré, we are left feeling that much of what came before is really laughter in the dark. The immigrant experience can be mined for all manner of hilarity, but it's equally important, sometimes, to remember where you come from.
You can buy Little Failure at McNally Jackson. Catch Gary Shteyngart at our next Seriously Entertaining show, Inside the Lie, on September 29 at City Winery — tickets here. Also featuring Natalie Haynes, John Guare, Andrew Solomon, Gail Sheehy, and Marcelo Gleiser. Follow Gary Shteyngart on Twitter.