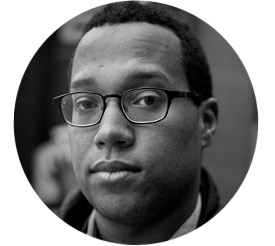 Branden Jacobs-Jenkins
Branden performed on stage for Seriously Entertaining at City Winery on April 21, 2015, speaking on the evening's theme, "One Simple Rule."
Branden Jacobs-Jenkins is an Obie Award-winning playwright whose plays include Everybody (2018 Pulitzer Prize Finalist); Gloria (2016 Pulitzer Prize Finalist); Appropriate (Obie Award; Outer Critics Circle nomination; Signature Theatre), Neighbors (The Public Theater), War (Yale Rep), and An Octoroon (Obie Award; Soho Rep). The New York Times Magazine recently noted, "Jacobs-Jenkins is having the kind of starry moment in the American theater that most people twice his age can only dream of." A former Lila Acheson Wallace Fellow at The Juilliard School, he is currently a Residency Five playwright at the Signature Theatre and has commissions for new plays from both Lincoln Center Theater's LCT3 and The Manhattan Theater Club. His work has been seen at major theaters across the US and in the UK. His honors include a Paula Vogel Award, a fellowship from the New York Foundation for the Arts, and the inaugural Tennessee Williams Award. He has taught at New York University and Queens University of Charlotte. A native of Washington, D.C., Branden now lives in Brooklyn.
In his own words: "…I like theatre that's trying to speak to the actual people in the actual room—the little mock-society that we've formed—and, like, get to the heart of something and get to life and how confusing it is to be in groups."
Purchase this writer's book via our virtual storefront on Bookshop.org, the bookselling platform that supports independent bookstores. A portion of proceeds from all book purchases will go toward helping support SpeakEasy's nonprofit mission and our literary programs on stage, in schools, and on the road with The SpeakEasy Bookmobile.
BUY NOW