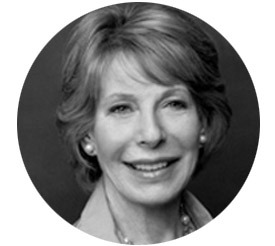 Gail Sheehy
Gail performed on stage for Seriously Entertaining at Joe's Pub at The Public Theater on September 29, 2014, speaking on the evening's theme, "Inside The Lie." Watch it below.
American author, journalist, and lecturer Gail Sheehy wrote for more than fifty years. Her books include Passages (1976), which has been translated into 28 languages; the biography Hillary's Choice (1999), about the then First Lady; Middletown, America (2003), about the effects of 9/11 on a New Jersey town; and, her last book, a memoir entitled Daring: My Passages (published September 2014). As a journalist, Sheehy was a contributing editor at Vanity Fair starting in 1984 and was an early contributor to New York Magazine. Her work has also appeared in The New Yorker, Harper's Bazaar, Rolling Stone, and The New York Times Magazine. Sheehy's most famous subjects have been politicians, including Robert Kennedy, Barack Obama, Margaret Thatcher, and Saddam Hussein.
In her own words: "What is the theme of my life? The word 'daring' came to me. It was taking chances. When I fear, I dare."
Purchase this writer's book via our virtual storefront on Bookshop.org, the bookselling platform that supports independent bookstores. A portion of proceeds from all book purchases will go toward helping support SpeakEasy's nonprofit mission and our literary programs on stage, in schools, and on the road with The SpeakEasy Bookmobile.
BUY NOW
https://www.houseofspeakeasy.org/daring-to-live-gail-sheehys-passages/