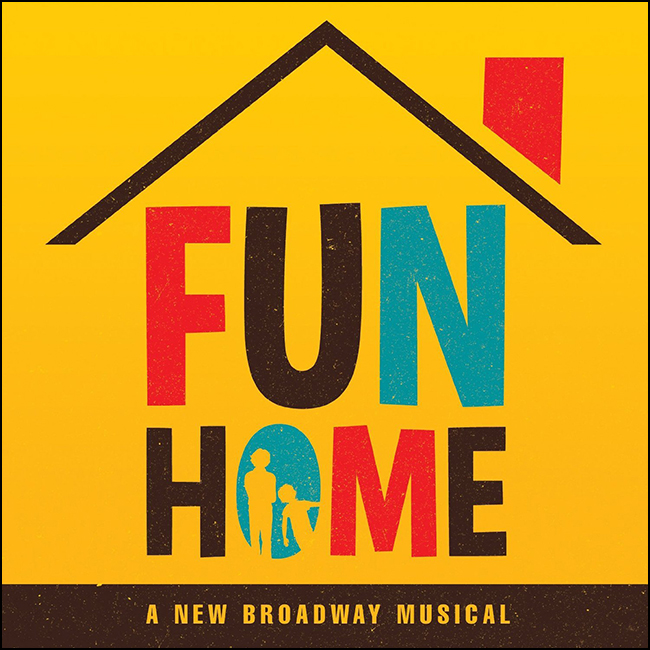 Fun Home
Book and lyrics by Lisa Kron
Music by Jeanine Tesori
Based on Fun Home: A Family Tragicomic (2006) by Alison Bechdel
Broadway's on a roll right now, and it's thanks in no small part to the Public Theater. If the groundbreaking Hamilton, a sell-out success at the Public in 2015, doesn't win Best Musical at this year's Tonys, hats will surely be eaten. And Hamilton would make it two in a row for the Public, which also championed the breakthrough hit Fun Home. As well as taking home Best Musical last year, the show picked up awards for Best Book and Best Original Score for Lisa Kron and Jeanine Tesori. The House of SpeakEasy is delighted to be welcoming Kron back to the Public on April 19 to talk about, among other things, her role in the creation of this extraordinary musical.
The show is based on the genre-defying "family tragicomic" by Alison Bechdel, which was published in 2006 and made many of that year's best books lists. A graphic novel, a memoir, a work of literary criticism (tackling Proust and Joyce, no less), and a landmark in LGBTQ literature, Fun Home tells the story of Bechdel's childhood in a small Pennsylvania town and her coming out as a lesbian at Oberlin College. In Kron's adaptation, we're introduced to three Alisons: a precocious pre-teen, an inhibited young adult, and the show's grown-up cartoonist-narrator. They look different, they behave differently, yet thanks to Kron's dialog and lyrics, never once do we doubt their continuity. And the triple-casting is an apt approach in a show where the mysteries of identity — who we are, where we come from — are so central.
It sounds like it could be maudlin. A family raised by a closeted father and distant mother in a funeral home. The father's apparent suicide in the path of an oncoming truck just weeks after his daughter comes out. The emotional anguish of revealing oneself. Yet Fun Home lives up to its name from the start. Take the kids' mock commercial for the Bechdel Funeral Home, a Jackson Five-like number in Partridge Family costumes. Its good-natured dark humor — "Your uncle died / You're feeling low / You've got to bury your momma / But you don't know where to go" — is a pure expression of the show's DNA.
https://youtu.be/wsvRTu6Zr2E?t=1m38s
Then there's "Changing My Major", sung by Medium Alison. The sinuous, conversational, false-start, Sondheimian lyrics perfectly capture the ecstatic confusion that she feels when she loses her virginity to a girl from the Gay Union:
Hi, Joan / Don't wake up Joan! / Oh my god, last night / Oh my god, oh my god, ohmygod OHMYGOD last night / I got so excited / I was too enthusiastic / Thank you for not laughing / Well, you laughed a little bit / At one point when I was touching you and said I might lose consciousness / which you said was adorable / and I just have to trust / that you don't think I'm an idiot or some kind of an animal / I never lost control due to overwhelming lust
The musical-academic pun on "major" mirrors the triumphant shift in Alison's life as she fully accepts, for the first time, who she is.
https://youtu.be/nTc3OYlKS78
It's far from her first inkling, mind. In one of the show's most daring (and standout) moments, expanded from a mere seven panels in Bechdel's book, Small Alison is in a diner with Bruce, her father, when a woman enters and she's struck powerfully by a sudden feeling of identification. "It's like I was a traveler in a foreign country," recalls older Alison, "who runs into someone from home, someone they've never met before but somehow just recognizes." For Kron, this was a difficult moment to pull off. As she told Playbill:
what I feared was that I didn't know how to do it without setting up the audience to laugh at that butch woman. And I thought, 'If we do this song and the audience laughs at her…' I couldn't bear it. I can't make that show. And the portrayal of 'butchness' in the show, from the very beginning, was something that I was very concerned about how we would succeed at doing it. It's an elusive thing. It's not about maleness. It's something else. If you understand that dynamic, it's very clear to you what it is. If it's not something you've encountered, in my experience, it's something that's actually hard to make clear what it is.
It's a moment rich in complexity not just because of the challenges of representation but also because of the mysterious quality of childhood sexuality that it's attempting to depict. Small Alison's elliptical "I feel… I want…" is like the international sign for unspeakable (verboten but also obscure) desire. The solution Kron finds is to locate the detail that would most appeal to the childish Alison:
Your swagger and your bearing and the just-right clothes you're wearing
Your short hair and your dungarees and your lace-up boots
And your keys — oh! — your ring of keys!
It was this moment that was selected for Fun Home's Tony Awards performance last year:
"Who knows what the average viewer thought?" Bechdel herself said afterwards. "Even if it's not about sexuality, but about a child having awareness and subjective power, it's kind of revolutionary."
Revolutionary it might well prove to be. In 2014, the cast of Fun Home performed at the College of Charleston in South Carolina after the state legislature voted to withdraw funding from the college in response to its inclusion of Bechdel's book on a reading list. Michael Cerveris, who continues at the time of writing to play Bruce in the Broadway production, wrote about the experience for Playbill, calling it "the clearest proof I've ever experienced in this digital age of theatre's enduring value to society and its exclusive capacity to bring people together". At a time when state legislatures are revolting against federal and Supreme Court rulings in favor of LGBTQ rights, it could well be the so-called "soft" power of productions like Fun Home, which will surely tour, that tips the balance in the national consciousness.