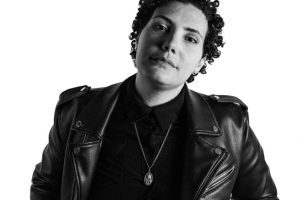 Raquel Salas Rivera is the 2018-19 Poet Laureate of Philadelphia. They are the inaugural recipient of the Ambroggio Prize, for their book x/ex/exis, and the Laureate Fellowship, both from the Academy of American Poets. From 2016-2018, they edited The Wanderer and Puerto Rico en mi corazón, a collection of bilingual broadsides of contemporary Puerto Rican poets. They are also the author of six chapbooks and five full-length poetry books. Their fourth book, lo terciario/the tertiary, was on the 2018 National Book Award Longlist, was selected by Remezcla, Entropy, Literary Hub, mitú, Book Riot, and Publishers Weekly as one of the best poetry books of 2018, and is a Finalist for the 2019 Lambda Literary Award for Transgender Poetry. Their fifth book, while they sleep (under the bed is another country), was published by Birds, LLC in 2019.
On June 14, they will participate in an event at The Free Library of Philadelphia as part of our Poetry to the People book truck tour with Narrative 4. This 10-day, 10-city, 1800-mile journey from New York to New Orleans, will feature stops along the way to give away free books, highlight and celebrate local writers, and promote literacy and literary organizations. To support the trip, please visit our fundraising page here.
1) Please tell us about your most recent project.
I have been working on a book about and for the future of Puerto Rico. It has been challenging to think beyond the devastation of colonialism, but it is something Puerto Ricans do on a daily basis in more manageable ways, and remembering that through writing has been incredibly healing.
2) How did you get your start as a writer?
I began writing when I was twelve. I wrote throughout my teenage years and performed my work all over Puerto Rico. Whenever there was a reading, I'd go perform my work. It was terrifying at first, but after a while I got used to it and the fear became thrilling. I also read as much poetry as I could get my hands on. This is how I learned about different styles and literary traditions. When I couldn't speak a language, I would try to find translations. This is how I read many of the French symbolist and romantic writers and poetry originally in Arabic. I'm not sure to what extent this work shaped me, but it certainly helped me appreciate translation. I also ready a great deal about Puerto Rican history and audited courses I found interesting at the University of Puerto Rico.
I didn't publish my first book until I was 26. Before then, my poetry was something I worked on, shared with other poets and would occasionally publish in a journal. I'm grateful I waited to published my first book. My first press was a Puerto Rican press, Editora Educación Emergente, and they made sure my book stayed in print over the last seven years.
When I moved to Philadelphia, in some ways I had to begin all over again. I write in Spanish and I wasn't sure how to relate to mostly English-speaking audiences. This meant deciding how I wanted to approach translation, loss, and migration in my work.
3) Where do you get inspiration?
I don't write because I feel inspired. I often write because something obsesses me or I have a question that keeps returning without answer. I'm drawn to things that feel central to my existence, but in ways that confuse or intrigue me. This was the case with the PROMESA law, the role discussions about gender played within the Puerto Rican left, being non-binary in Puerto Rico, and how desire is often curbed under colonialism. These are active concerns I persistently circle
4) What is earliest memory of reading or writing?
My earliest memory is my mother reading me poetry.. I remember her reciting Versos sencillos by José Martí. That first stanza is one of the most beautiful stanzas in existence:
Yo soy un hombre sincero
De donde crece la palma.
Y antes de morirme quiero
Echar mis versos del alma.
5) What advice do you have for aspiring writers?
You become a writer the moment you write. My only advice is that you should never forget what made you want to become a writer. When I've doubted my own work or felt inadequate, I read some of my favorite poets and remember why I began writing in the first place. There is nothing like the feeling you get when you read an incredible poem. That is why I write. Everything else is just packing material.