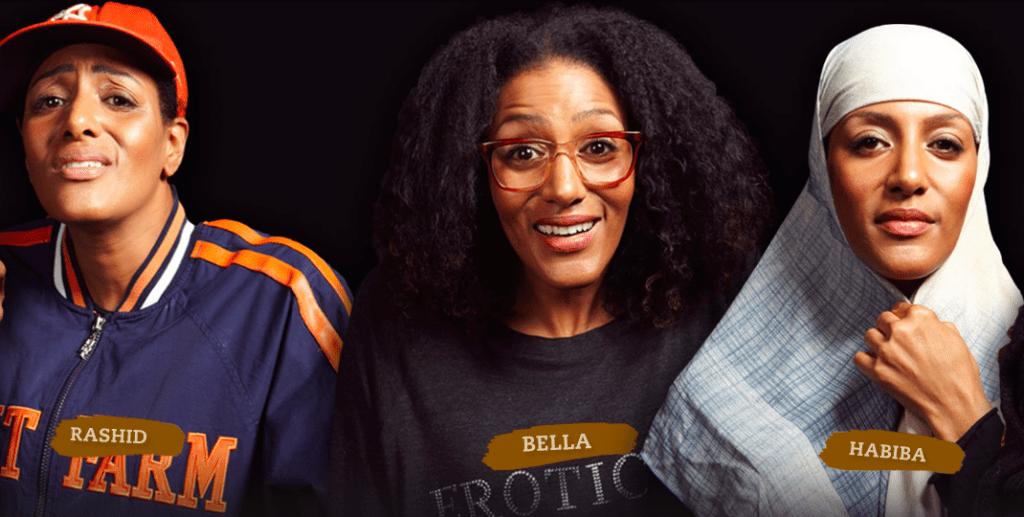 Sell/Buy/Date
Written and performed by Sarah Jones
Directed by Carolyn Cantor
Playing at New York Live Arts until January 16
Note: This article concerns the workshop production of Sell/Buy/Date staged in New York in January 2016
A woman with a barcode tattooed on her ass. That was the image that stuck with me after Sarah Jones finally broke character and used her own voice to thank Friday night's audience for attending this special workshop production of her exceptional one-woman show. Sell/Buy/Date is a humorous look at an unfunny subject — the sex industry's capacity for exploitation — and it will be fascinating to see how the show develops during the course of its run at New York Live Arts and the months before of its world premiere later this year.
Sell/Buy/Date is a work of speculative fiction. Set roughly a hundred years from now, the play explores potential developments in the relationship between sex and technology, and their effects on human interaction and psychology. Jones is a professor using "bio-empathetic resonant technology" (BERT) to teach her students about the sex industry of the past, a sort of VR that provides an alibi for Jones to adopt a series of personae who can tell us the imagined future-history of the twenty-first century. One minute, Jones is an elderly lady trying to reinvigorate her sex life through pornography; the next, a reformed pimp-turned-motivational speaker; later, she's a barely-legal hostess at a "breastaurant", giving her clientele the grand tour of a sex campus in South Carolina. Despite the futurespeak, what impresses most is the humanity of Jones's creations. They're much like us, and find themselves bewildered by the dystopian world of corporatized and unionized sex they find themselves in.
We're led to believe that the year 2125 is partway through a second Enlightenment, one in which humanity has risen above the demands of the flesh and the age-old war of the sexes. We're taught to scoff at a past when we talked about "what were then called races or ethnic groups", when gender was "a bit binary". We chuckle at the advanced political correctness of terms like "chronologically advanced". But the scars of the past are ever present. The professor is the daughter of a child prostitute from our own time, a woman who — in a poignant flashback at the end of the play — refers to the father of her daughter as her "perpetrator". The professor's conversations with her sister betray the concern she feels for her mother's declining health and her memory, which, for all its damage, offers a tenuous link to the past. And it's perhaps notable, despite the alleged social advances, that the women of the twenty-second century still seem to fulfil the traditional carer role in the family. We glimpse a future humanity striving for better but unable to outrun its past, despite its many leaps forward.
It's also a sharp critique of the way we live now. Mashable, just last week, reported on the arrival of virtual-reality porn at the Consumer Electronics Show in Las Vegas; it seems Jones's fictional "Mind's Eye" may be eclipsed by Naughty America before the year is out. Meanwhile, addiction to (2D) porn, the rise of hook-up apps, and the alienating effects of social media and life online are, as one of her characters points out, transforming sex into a sales experience. She's right to be wary. One of Jones's later characters, a veteran vice-squad cop, admits, "I know what a girl sounds like faking it in a hundred different languages." In the near-future, a time when prostitution has become legal in all but one state, when the escort service MyGirl can use free speech as its case to the Supreme Court for dismissing girls over the age of twenty-three from its roster, a new "Men's Health Crisis" has emerged, characterized by anhedonia, impotence, and despair.
Jones's uncanny ability to assume alternative personalities is the generative force in Sell/Buy/Date. Her naturalistic characterizations, aided by her mastery of accents and distilled from extensive research and observation, make the show feel like verbatim theater. Her ability to find the telling detail — like the sex worker whose parents are on her health insurance — and her evident love and empathy for her characters keep them from falling into caricature. No one has longer than a few minutes' stage time, but her sketches feel fully drawn. The show has such thrust that its polemic never threatens to overwhelm.
Catch it now for a fascinating glimpse into the creative process at work.
Sarah Jones will appear at the Seriously Entertaining gala, I'll Have Another, at City Winery NYC on February 1. Buy tickets here.
You can see Sell/Buy/Date at New York Live Arts until January 16. Buy tickets here.