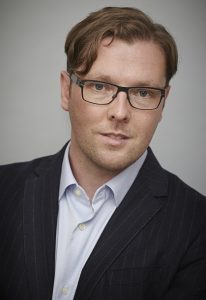 Damian Barr is the author of Maggie & Me, which the Sunday Times named Memoir of the Year. He is Literary Ambassador for the Savoy in London where he hosts his Literary Salon, which has been going for ten years with hundreds of prominent guests including Bret Easton Ellis, John Waters, Colm Tóibín, Jojo Moyes, David Mitchell, and Mary Beard. The Salon has partnered with the BBC Short Story Prize and the Man Booker, Hay, and the Windham-Campbell Prizes. Barr is also Literary Editor of the Soho House group and appears regularly on BBC Radio 4. He is a Fellow of the Royal Society of Arts and was 2013's Stonewall Writer of the Year. He lives in Brighton, England. His debut novel You Will Be Safe Here will be published in May.
On May 21, he will be speaking at House of SpeakEasy's Seriously Entertaining show, The Root of it All, alongside Eve Ensler, Boris Fishman, and Kevin Young.  We spoke to Damian ahead of the show.
What is your earliest memory involving reading or writing?
My Mum had an old Golden Virginia Tobacco tin filled with words written in block capitals on tiny squares of paper. I'd pick a word out and she'd teach me how to say it and tell me what it meant before showing me how to write it down. All the words smelled of sweet tobacco. I could read and write by the time I went to school. Not so many years later my mother suffered a brain hemorrhage and nearly died. She had to learn to walk and talk again and read and write and I got out that old tin and showed her the words she showed me. They smelled just as sweet.
What is your favorite line from your current work?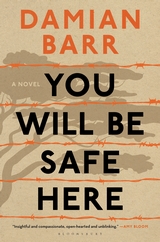 WHICH IS MY FAVOURITE CHILD? I haven't thought about this. But maybe 'In the water, in the dark. It doesn't matter whose fingers find whose toes. Nobody can see. The stars are saying nothing.'
What is your favorite first line of a novel?
"You better not never tell nobody but G-d." — Alice Walker, The Color Purple
What advice would you give to aspiring writers?
Read first. Write later.
What writer past or present do you wish you could eat dinner with?
Truman Capote—we'd get so carried away with drinks we'd forget dinner and have to make do with martini garnish.
What writer do you wish you could share with the world?
I am glad Zora Neale Hurston is getting recognition in the UK because Their Eyes Were Watching God is one of the finest novels I have ever read. But I'd like to share Molly Keane—her domain is the anglo-irish country house but her power lies in making us all feel like we stalk the once-grand rooms and their crumbling inhabitants. Her wit should not be mistaken for a lack of seriousness but a catalyst for it.
What are you reading right now?
I'm about to start Out of the Wood by Luke Turner and then I quite fancy Constellations by Sinead Gleeson. I just finished a friend's manuscript and I wish I could tell you who.
What fictional character do you most closely identify with?
Miss Celie from The Color Purple
If you could live inside a fictional world, which one would you choose?
28 Barbary Lane from Armistead Maupin's Tales of the City novels
Are there any quotes you use to inspire you?
For this novel, I listened to the words of Tayari Jones who was I think, quoting a teacher of hers: 'Write about people and their problems. Don't write about problems and their people.'