Helen Phillips is the author of, most recently, the novel The Need. Her collection Some Possible Solutions received the 2017 John Gardner Fiction Book Award. Her novel The Beautiful Bureaucrat, a New York Times Notable Book of 2015, was a finalist for the Los Angeles Times Book Prize and the New York Public Library Young Lions Award. Her collection And Yet They Were Happy was named a notable collection by The Story Prize. Helen has received a Rona Jaffe Foundation Writer's Award and the Italo Calvino Prize in Fabulist Fiction, and her work has appeared in The Atlantic, The New York Times, Tin House, and on Selected Shorts.
On September 17, she will be speaking at House of SpeakEasy's Seriously Entertaining show, No Sleep Till, alongside William Dalrymple, Nicole Dennis-Benn, and Torrey Maldonado.
What is your earliest memory involving reading or writing?
I remember being ferociously jealous when I was about four years old and would watch my parents reading novels or the newspaper. I wanted to know what it was about those markings on the page that so absorbed them.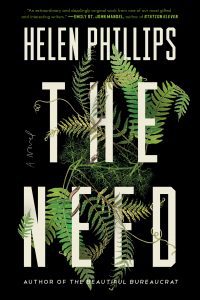 What is your favorite line from your current work?
I don't know if it's my favorite line, but I'm attached to it because it came to me so early in the process, before I knew much of anything about the book. It's the first line of The Need: "She crouched in front of the mirror in the dark, clinging to them." That line was the gateway for me to both the emotion and the action of the book.
What advice would you give to aspiring writers?
Try to remember that writing is its own reward. You don't have a ton of control over how your writing is received by the outside world, but you have full control over the worlds you create on the page. Relish that control, particularly in those moments of inevitable rejection.
What writer past or present do you wish you could eat dinner with?
Ursula K. Le Guin
What writer do you wish you could share with the world?
Samanta Schweblin & Karin Tidbeck
What are you reading right now?
There There by Tommy Orange
Are there any quotes you use to inspire you?
These four quotes moor me:
"A failure is just information." (Toni Morrison)
"Fail again. Fail better." (Samuel Beckett)
"Write a little every day, without hope, without despair." (Isak Dinesen)
"When we are not sure, we are alive." (Graham Greene)