Jason Reynolds is the New York Times bestselling
author of the Coretta Scott King Honor book, The Boy in The Black Suit, and co-author of All American Boys with Brendan Kiely, also a Coretta Scott King Honor book, as well as the inaugural recipient of the Walter Dean Myers Award. Aside from his young adult works, Reynolds is also the author of the middle-grade novels As Brave As You, which won the Kirkus Prize and was nominated for an NAACP Image Award, and GHOST, the first of the four-book TRACK series, which was selected as a National Book Award Finalist.
On May 10, he will be speaking at House of SpeakEasy's Seriously Entertaining show, All Together Now, alongside Elif Batuman, John A. Farrell, and Annabelle Gurwitch (tickets). We spoke to Jason ahead of the show.
Name: Jason Reynolds.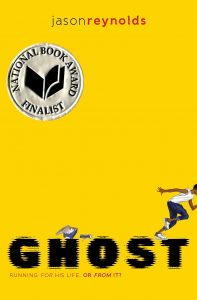 Age: 33.
Where are you from? Washington, DC.
What is your occupation? Writer.
Title of most recent work: GHOST.
What are you working on now? Miles Morales (black spider-man), and the sequel to GHOST, and a bunch of other stuff.
If you had to paint a scene from your childhood to capture its essence, what would you paint? Black children, outside. Old men with cigarettes. Old ladies, drinking. Everybody dressed to the nines.
What's your earliest memory of literature? Reading Queen Latifah lyrics as a nine-year-old.
Which day in your life would you repeat? Which day would you delete? I would repeat being at the National Book Awards with my mother. I would delete the day I decided to hate my father.
What do you most look forward to? Coffee and dinner.
What do you hope future civilizations will find in the miraculously preserved shell of your home? A pristine, signed first edition of Beloved, and a rare copy of Langston Hughes's Montage of a Dream Deferred.
What are you reading right now? What It Means When A Man Falls From The Sky by Lesley Nneka Arimah.
What was the last great film you saw? Jeremiah Tower.
If you could live inside a fictional world, which one would you choose? Narnia.
What are your go-to quotes? "Process before progress." And, "Unscrew the locks from the doors / Unscrew the doors themselves from their jambs" (Whitman).
Given sufficient budget, what would you put on your wall? All of my friends' art.
Who, in music, strikes deepest in the soul? Old Aretha, Marvin, Sam Cooke, Otis Redding; anyone from that era!
Who in history would you most like to have a stinking-drunk night out with? Jay-Z.
Print or digital? Print.
What are your preferred writing materials? A "Le Pen" pen, Rhodia pad, and laptop.
What's the loveliest book (to hold, to look at, to leaf through) that you own? Honey, I Love, by Eloise Greenfield.
Where would we find your favorite bookstore? HA! Too hard. But if I had to pick one, it's be Capitol Hill Books, in DC. Been around forever. Old mean guy runs it. He has a list of words that you're not allowed to say taped to the wall, and if you say them, he yells at you. It's amazing.
How do you celebrate the completion of a piece of work? By starting the next.
Jason Reynolds joins Elif Batuman, John A. Farrell and Annabelle Gurwitch at the Seriously Entertaining show All Together Now at Joe's Pub at The Public Theater on May 10, 2017. Buy tickets here.