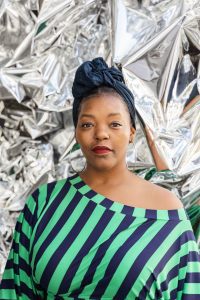 Mahogany L. Browne is a writer, organizer & educator. Interim Executive Director of Urban Word NYC & Poetry Coordinator at St. Francis College. Browne has received fellowships from Agnes Gund, Air Serenbe, Cave Canem, Poets House, Mellon Research & Rauschenberg. She is the author of Woke: A Young Poets Call to Justice, Woke Baby & Black Girl Magic, Kissing Caskets, & Dear Twitter. She is also the founder of Woke Baby Book Fair (a nationwide diversity literature campaign) & as an Arts for Justice grantee, is completing her first book of essays on mass incarceration, investigating its impact on women and children.
How has the current state of things impacted your writing life?
I've cancelled 90 days of touring and performance opportunities. I also had to cancel my book launch for my newest YA book: WOKE: A Young Poet's Call to Justice
What are the ways you've been connecting to your community?
IG Live, Zoom Meetings & Happy Hour via ZOOM with friends.
How do you stay focused?
I'm reading and writing in a small group. When that doesn't work I bake a cake. When that doesn't work I binge on a Netflix series. When that still doesn't work, I sleep.
What daily writing or creative practices help ground you?
I've a private group of writers I'm accountable to. When I can write, I do. When I can't I read their offerings and give myself permission to be still.
Do you have words of comfort or advice to share with readers?
Be ok with being still. Be ok with trying something new. Be ok with resting up or archiving, or cleaning or cooking. or exercising, or scouring Pinterest for new ideas.
What writer do you wish you could share with the world?
Jive Poetic
What are you reading right now for solace or escape?
YA: Wilder Girls & Poetry Anthology: LatiNEXT
If you could live inside a fictional world, which one would you choose?
Wakanda
Are there any quotes you use to inspire you now or anytime?
"come celebrate with me today something has tried to kill me and has failed" — lucille clifton
What is a favorite line from your recent work that you think would resonate with the SpeakEasy community?
Alone in a tower between the sea
the Mexico borders
My mother sighs a little sigh & says
Nothing
I just wanted to hear your voice