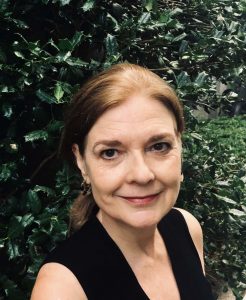 Anne Nelson is the author of Shadow Network: Media, Money, and the Secret Hub of the Radical Right a ground-breaking exploration of the coalition of fundamentalists and oil who helped bring Trump to power. Nelson began her professional career on the editorial staff of The New Yorker. In 1995 she became the director of the International Program of the Columbia School of Journalism. She has taught and conducted research on digital media and development at Columbia's School of International and Public Affairs since 2002. Nelson is the recipient of the Livingston Award, a Guggenheim Fellowship, and a Bellagio Fellowship. Her 2001 play The Guys, dealing with the aftermath of the 9/11 attacks, has been produced in 50 states and 15 countries, and as a feature film starring Sigourney Weaver. Nelson is a member of the New York Council for the Humanities and the Council on Foreign Relations.
How has the current state of things impacted your writing life?
I was scheduled for a national book tour for Shadow Network in March and April (including House of Speakeasy*). All ten events were cancelled –including the Virginia, Arizona, and Los Angeles Book Festivals. I've continued to do radio and podcast interviews for the book from home, because Shadow Network reports on right-wing electoral strategies that have gone into overdrive going into the 2020 elections.
*Editor's note: You can listen to the story Anne would have told live at Joe's Pub on our podcast.
What are the ways you've been connecting to your community?
I've become much more active on Twitter as @anelsona, sharing and receiving important new research from my readers and an international community of academic researchers. This has touched on issues such as right-wing fundamentalist strategies to curtail LGBT civil rights and women's access to health care, as well as new information on Russian election-tampering.

How do you stay focused?
With great effort and long walks in Riverside Park

What daily writing or creative practices help ground you?
I work in the mornings and early afternoons, walk (socially distanced) in the late afternoons. I have regular conference calls and email chains with other cutting-edge political researchers.
Do you have words of comfort or advice to share with readers?
This too shall pass. But in New York City, we will go through another period of shock, followed by a period of mourning. Many people are already quoting my play and film The Guys, which portrayed the experience of the city after 9/11. We will mourn together, again.
What writer do you wish you could share with the world?
Willa Cather
What are you reading right now for solace or escape?
The Backyard Birdsong Guide: A Guide to Listening, by Donald Kroodsma
If you could live inside a fictional world, which one would you choose?
The one I hope to write someday.

Are there any quotes you use to inspire you now or anytime?
"There you have the secret of good work: to plod on and still keep the passion fresh." George Meredith

What is a favorite line from your recent work that you think would resonate with the SpeakEasy community?
"History teaches us that a nation neglects its democratic institutions at its peril. The 'associations' lauded by Alexis de Tocqueville require constant renewal. The challenge of modernity is to use technology and organizations not to exploit divisions, but to seek common ground."