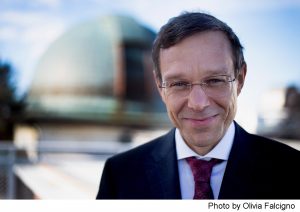 Avi Loeb is the former chair of the astronomy department at Harvard University (2011-2020), founding director of Harvard's Black Hole Initiative and director of the Institute for Theory and Computation at the Harvard-Smithsonian Center for Astrophysics. He also chairs the Board on Physics and Astronomy of the National Academies and the advisory board for the Breakthrough Starshot project, and is a member of the President's Council of Advisors on Science and Technology. His new book is Extraterrestrial: The First Sign of Intelligent Life Beyond Earth.

On March 23rd, Avi will join Mary H. K. Choi, Melissa Febos, and Nic Stone in our next edition of "Seriously Entertaining" where they will each tell stories tied to the theme "From This Moment On." Register here for the show!

What are you reading right now for solace or escape or entertainment?
Listening to classical music; mostly Bach and Mozart
If you could live inside a fictional world, which one would you choose?
Living in interstellar space
Are there any quotes you use to inspire you?
"When you are not ready to discover exceptional things, you will never discover them" "Reality stays the same irrespective of whether you ignore it".
What writer would you like to share with the world and why?
Jean-Paul Sartre, because of his authenticity.