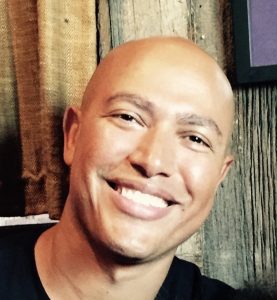 New York City's current and former Chancellors have praised Torrey Maldonado as a top teacher and author. He has taught for over twenty years in his Brooklyn childhood hometown. His middle-grade titles include Tight, which won a Christopher Award and was named a Washington Post and NPR best book of the year, Secret Saturdays, and, most recently, What Lane?. Growing up, Torrey hated books because "they were boring or seemed to hate or dismiss people where I'm from." Culturally responsive books and educators inspired him to teach and write. Voted a Top Latino Author and best Middle Grade and Young Adult novelist for African Americans, his work reflects his and students' experiences and is praised for its current feel, realness, and universal themes.
How has the current state of things impacted your writing life?
Listen, this pandemic has had a HUGE impact on my writing. Before, if an interviewer asked, "Where do you write?" I'd answer, "Anywhere". Now? Now I write in an underground quarantined bunker with a mask on and . . . I'm joking. I don't write in a mask. I just write in quarantine. And another real fact? The pandemic DID change my writing-life. People appreciate my books more, especially my newest, What Lane?, because readers say it relates to right now. Here, let's see if it is real to our current realities. Are we in a lane we've never been in before? Must we make new choices? Are we unsure of where things will lead? Are allies important? Are we seeing "hate crimes"? Suddenly, all of those mirrors in What Lane? have amplified people's appreciation of it.
What are the ways you've been connecting to your community?
Full disclosure? Now, I connect with my community in VERY new ways—in my pajamas, and unshaven. The challenge is looking fancy for video-calls. Here's my quick fix: dressy shirt, pajama bottoms, and I shave. Well, I shave what you'll see of my head: Mr. Clean in the front; blown out Afro in the back like peacock feathers. That's for connecting with adults. Connecting with students, I'm extremely different because I've taught middle school for over twenty years. I DO NOT want adults in PJs talking with students. For those video-chats, I do an amazing makeover and you'd imagine I was on Ellen being awarded a check as a "Top Teacher." Here's a question I want to ask: "How is my community connecting with me?" An UNBELIEVEABLE thing happened. Kids know how to instantly display great backgrounds behind them. A cool student named Gabby magically made her whole background my second book, Tight, and another swag-tastic student named Avery made her background my What Lane? cover. It's extraordinary what tweens and teens do with tech compared to me. By the way, shout-out to my community of Project LIT educators Claudia Daniels in Georgia, Shahenda Vannostrand in Michigan, and Kimiko Pettis in Chicago who connected me with those stellar tweens who I just mentioned with awesome backgrounds.
How do you stay focused?
Can you repeat that question?—because I wasn't focused. My nicknames for right now are "Corona-ggedon" and "coronAcalypse". The COVID19 outbreak has me so unfocused that I can't even pick which nickname I like more. My brother helps me focus. You may know him (he's famous but he likes to stay out of the spotlight when he can). My brother is "The Rock" Dwayne Johnson. I'm just kidding. BUT my students constantly say we look alike. Maybe I do from the neck up. "The Rock" has these intense YouTube video workouts where he surprise-yells, "FOCUS!" Years ago, I couldn't focus to write so I tweeted, "I need 'The Rock' yelling "FOCUS" at me as I write". With this pandemic, I wish I had him doing that. Can you imagine how it'll improve how fast I type?
What daily writing or creative practices help ground you?
There's that trendy song-line, "Every day I'm hustling." That's my life. Every. Day. I'm. Hustling—as a teacher, author, . . . But, recently, I stepped off of the fast-track and did something grounding. I got amazing invites to give keynote speeches at the National Council of Teachers of English 2019 conference, NCTE. I gave those speeches, which were rewarding and hard. On the final day, I felt zapped that I did something completely unplanned. I found a remarkably quiet spot, pulled out my personal copy of What Lane? and read. In a flash, it felt like I was reconnecting with my inner self. That's because the main character is me in many ways. Revisiting that young me pumped my breaks and was a rare moment because I had never reread my writing for enjoyment. I read by request at special events. That moment was magical and almost caught on film. I felt someone behind me, I shut my book and saw my friend who's a professor in the University of Salisbury (hi Shanetia Clark!). She was sneaking to take a photo of "the busy author" grounding himself in his own book. Shockingly, that spontaneous act is my new daily practice. Before bed, I reread parts of it and it refuels me and refocuses me in the right direction.
Do you have words of comfort or advice to share with readers?
I'll offer comforting words and tips from each of my books. In Secret Saturdays, both main characters pen unspoken feelings and thoughts in private freestyle rhyme-Rap books and now is a time to write down our experiences for future generations to treasure. In Tight, kids are superhero and comic fans and realize a real power we all have—choice. Right now, we can choose to be super-heroic to people less lucky who need us. What Lane? is about how we can be better allies when we see things aren't right, so let's ask ourselves, "How can we be better to each other and help each other get through now?"
What writer do you wish you could share with the world?
Do you know the Hamilton Mixtape song "My Shot." A rapper raps, "When opportunity knocks, you don't send anyone to get" and I've spent a lifetime to get here to share my stories so "I'm not giving away my shot". I want the world to know about me because my stories let you see the unseen, hear the unheard, and center marginalized voices. My stories are inspired by my Brooklyn, NY community and my students' lives and my life. So, sharing my writing with the world means amplifying unknown diverse New York stories.
What are you reading right now for solace or escape?
I'll let you in on a secret that my mom HATES me sharing, but it's true. Until middle school, I was mostly a failing student in failing schools. The schoolbooks that my peers and I were forced to read weren't worth reading because they either erased us, negatively stereotyped us, or showed us as sidekicks. So books weren't my solace. My solace were storytellers of Rap and Hip Hop. Those storytellers and comics hooked me to storytelling then onto writing. So, right now, which storytellers give me solace? Will Smith can't stop watching Joyner Luca's sizzling hot video Will, which is a tribute to Will Smith, and I keep watching it too. It has 16 million YouTube views. Joyner Lucas's album ADHD is music magic. Another album that is my escape is Jay Electronica's album A Written Testimony, which could be called Jay-Z/Jay-E because Jay-Z raps on it from start-to-finish.
If you could live inside a fictional world, which one would you choose?
"Wakanda Forever!" The Hollywood blockbuster Black Panther was made by a Black director and stars a nearly all-Black cast of actors. I'm a teacher. I'm both Black and Latino. Black men and Latino men make up two to five percent of the national U.S. teaching force. As a boy, most superheroes didn't look like me and today most of my colleagues don't look like me. Question: how would you feel if you look in a mirror and saw everyone else but didn't see you? It rattles the soul and hits you harder than a Muhammad Ali punch. It takes a lot to recover. Well, society is our mirror. It's a hard so if I could live in a fictional world I'd live where I'm reflected everywhere and even reflected in the face of our nation's ruler. Every member of our human family deserves to feel that they belong and they matter. For me, that's Wakanda. Since I can't live there, "Wakanda books do I write?" I write books that make journalists say "If you're a fan of Black Panther or Spider-Man: Into the Spiderverse, you'd love Maldonado's writing". All of my books have nearly all-Black and Latino characters and spotlights and Black, Latino, and all groups of readers in ways that everyone feels empowered.
Are there any quotes you use to inspire you now or anytime?
My mom is a miracle because she miraculously motivated me from my childhood in where Life called "The Crack Capital of the U.S." to become the first in our immediate family to graduate college (hi Vassar!) and I'm a teacher who's been praised by both the former and current Chancellors of NYC's schools as a top educator and culturally responsive author. My mom would quiz me and as a boy. "Torrey, finish this. 'Good, better, best . .' And I always hit bullseye and recited her quote perfectly. I'd say, "Good, better, best. Never let it rest. Until your good gets better and your better gets best."
What is a favorite line from your recent work that you think would resonate with the SpeakEasy community?
The SpeakEasy community is spectacularly diverse yet shares a common spirit. We're multi-talented and can ride in many lanes. In my recent visit with the teens in the Union Settlement in Harlem, my eyes kept popping at what each younger person announced would be their career. So for us in the SpeakEasy community, a line that is very "us" is "Stay in my lane? Really? What Lane?"