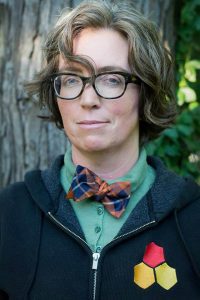 Gabrielle Calvocoressi is the author of The Last Time I Saw Amelia Earhart, Apocalyptic Swing (a finalist for the LA Times Book Prize), and Rocket Fantastic, winner of the Audre Lorde Award for Lesbian Poetry. Calvocoressi is the recipient of numerous awards and fellowships including a Stegner Fellowship and Jones Lectureship from Stanford University; a Rona Jaffe Woman Writer's Award; a Lannan Foundation residency in Marfa, TX; the Bernard F. Conners Prize from The Paris Review; and a residency from the Civitella di Ranieri Foundation, among others. Calvocoressi's poems have been published or are forthcoming in numerous magazines and journals including The Baffler, The New York Times, POETRY, Boston Review, Kenyon Review, Tin House, and The New Yorker. Calvocoressi is an Editor at Large at Los Angeles Review of Books, and Poetry Editor at Southern Cultures. Works in progress include a non-fiction book entitled, The Year I Didn't Kill Myself and a novel, The Alderman of the Graveyard. Calvocoressi teaches at UNC Chapel Hill and lives in Carrboro, NC, where joy, compassion, and social justice are at the center of their personal and poetic practice.

"In Your Own Words," tell us something about your writing style or where you
get inspiration?
I get inspiration from all kinds of things! Mainly from walking (which I do with varying
ability because of my nystagmus) all over the place and waving and saying hello to
everyone, even sometimes people I think who are there but are not (again,
nystagmus). I grew up in a space where I was pretty scared all the time so I've
decided to try and be open and as not scared as possible. Which is hard most days
and certainly right now! I think my walks and writing and waving hello are kind of all
the same: hoping to welcome the world in and hoping to make something of it.
What are you reading right now for solace or escape?
Right now I just finished Tayari Jones' Silver Sparrow and David Adjmi's amazing
memoir Lot Six. I've also been reading Margery Fish's wonderful gardening book, We
Made A Garden.
If you could live inside a fictional world, which one would you choose?
I mean I would so love to live at Hogwarts if JK Rowling wouldn't kick me out for being
gender-nonconforming and would treat my trans compatriots with love and care. I love those
books and it's been really heartbreaking to feel I somehow can't go there safely in the same way. I know people will say that's silly but for those of us who read by literally imagining ourselves in the world, her comments on trans people have been truly…I don't even know the word that describes the feeling for me. I'm not being articulate enough. I wish I could go back and feel safe there again.
Are there any quotes you use to inspire you now or anytime?
"I was always taught that you receive fully when you love fully. It is possible to love
something and see its flaws, but you can't let the flaws be the primary thing you see, or the
primary thing you care about. All of us are in the world doing our best and hoping for the
best, and I have never been disappointed when I walked into the world–and every situation-
-hoping fervently that everyone did well and learned well and achieved some fulfillment in
their work." – Marian Seldes 1928-2014