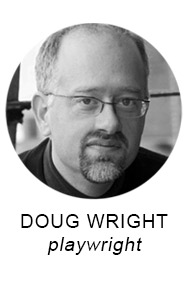 Doug Wright's work is a broad church. He won an Obie in 1996 for the arch, racy Quills, which imagines the last days of the Marquis de Sade in the Charenton asylum. In 2004, he won a Tony and the Pulitzer Prize for I Am My Own Wife, a play about the German transvestite Charlotte von Mahlsdorf, a man who somehow survived both the Nazis and the East German Communists intact, which Wright dubbed "a one-woman show, performed by a man". He penned the books for the Broadway musicals Grey Gardens, based on the cult film; Disney's The Little Mermaid; and Hands on a Hardbody, a hugely entertaining show about an endurance contest to win a pickup truck. His most recent play, Posterity, performed earlier this year by the Atlantic Theater Company, had Henrik Ibsen as a central character. It's hard to think of a playwright working today with a range as fabulous, as historically and socially broad, as Wright's.
He doesn't always see it that way himself. When a friend remarked that his resumé made him a surprising choice for The Little Mermaid, Wright pointed out that the protagonists of both Mermaid and I Am My Own Wife seek to change "below the waist" to win the objects of their affection. He also suggested that "the sea urchin and the Marquis de Sade have more in common than Disney wants to admit"…
Whatever the similarities in subtext, it's language that seems to be Wright's "way in" to all this different, often difficult, material. He developed a taste for the more colorful of America's great playwrights at a young age, reading most of Tennessee Williams and Eugene O'Neill by the time he was in middle school. The stylised, hyperconscious dialogue of some of his work is testament to his early tastes. His most critically successful works, Quills and I Am My Own Wife, are even about language in their own ways. The Marquis de Sade, in Quills, is sent to an asylum in an attempt to suppress his insatiable sexuality after his outrageous fiction gets him into hot water with the authorities. The progressive Abbé du Coulmier, who acts as the Marquis's warden, believes that de Sade can cure himself by continuing to write, purging himself of his excessive desires and polymorphous perversity by transposing them into prose. The Marquis has other ideas, as he sets out to publish from captivity by passing drafts of his work out into the world via laundress Maddy LeClerc. In Philip Kaufman's film of Quills, Geoffrey Rush's de Sade, circumspect about the news that his new book, Justine, has been burned by order of Napoleon, remarks, "That's the peril of composing such incendiary prose."
The power of language to move, to revolt, to outrage, is everywhere evident in Quills. When Kate Winslet reads her mother, played by Billie Whitelaw, one of de Sade's stories — about a necrophiliac — Whitelaw exclaims, "That's terrible!" Then: "…Go on!" Even conversation, in the Marquis's world, is a sex-act: "like certain portions of the anatomy," he says, reaching for a bottle of wine to serve the Abbé, it "always runs more smoothly when it's lubricated". In one of the film's central scenes, de Sade stages a farce to welcome the harsh Dr. Royer-Collard (Michael Caine), who's been sent to sort out the Marquis. It's a Hamletian moment, with the play crudely mirroring the doctor's own circumstances and revealing the hypocrisy of the old lech, who's just taken an underage convent girl for a wife. The wife ends up procuring and memorizing a copy of Justine, and beginning a passionate affair.
Language, then, can be dangerous. Twice in Quills, the Marquis's words appear to incite one inmate, the giant Bouchon, to acts of sexual violence. This is an especially necessary complication in the movie, which is less dialectic than the play and runs the risk otherwise of becoming rather sanctimonious about the importance of freedom of expression. Later, while trying to telegraph one last story out of Charenton, the Marquis and his inmate-amanuenses accidentally set fire to the asylum. Incendiary prose indeed.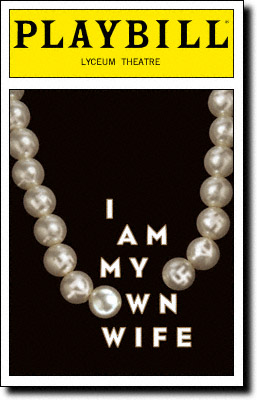 The dangers of free speech are also central to I Am My Own Wife. During the play's long research and writing process, Wright discovered that his subject, the antiques collector and ageing transvestite von Mahlsdorf, had been an informant for the Stasi in the later years of Soviet East Germany. Initially, this discovery sent plans for the play into a spin. But Wright soon came to terms with it. "Dramatic heroines require dimension," he wrote in an introduction to the published play-text, "the requisite character flaw that renders them human. I urgently needed to include Charlotte's duplicity; it was the price she paid for living the unequivocal, unapologetic life of a transvestite."
Von Mahlsdorf's speech, like de Sade's, has real-world consequences. It's also often in German, of course; and part of what makes the play such a triumph is Wright's extraordinary act of ventriloquism in staging her broken but evocative English. Once again, as in Quills, the erotics of language come into play. Speaking to "Doug", the playwright's onstage avatar, Charlotte suggests, "You speak German. Me, English. I wear your clothes, and you wear mine." And so, as the small boy Charlotte once was dons the apparel of a woman and becomes herself, so the single actor who plays Charlotte and Doug and all the play's other parts must inhabit them from inside, without the benefit of costume changes or even a moment's pause between shifts, exploring all the while that which is inherently erotic in the acting process.
Read: I Am My Own Wife (2004) at Barnes & Noble
Watch: Quills (2000) on Netflix
Doug Wright will appear at our next Seriously Entertaining show, Altered States, on September 22 at City Winery NYC. Buy tickets here.