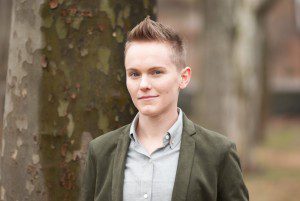 Sandy Allen is the former BuzzFeed features editor and co-founder of the online literary magazine Wag's Revue. Their essays have been featured in Best American Essays and Best American Science and Nature Writing. Sandy is the author of the memoir A Kind of Mirraculas Paradise: A True Story about Schizophrenia, about their uncle.
Sandy spoke at House of SpeakEasy's Seriously Entertaining show on January 30th, Caught in the Act alongside Christopher J. Yates, Elif Shafak, and Michael Wolff. We spoke to Sandy ahead of the show…
Describe your current project: "In 2009, writer Sandy Allen got something in the mail from their uncle Bob. It was his autobiography, typed on sixty pages in all-capital letters. Bob was a self-described 'hermit' who lived in a Californian desert. Sandy didn't know him well. On the phone, he said he wanted to get his story "out there" because it was "true." In A Kind of Mirraculas Paradise: A True Story about Schizophrenia, they share his story with the world.
​
"A Kind of Mirraculas Paradise is written in two fonts. In one, Allen tells their uncle Bob's life story faithfully to his account — animating his childhood and teenage years in tumultuous late sixties Berkeley, CA. His world was changed irrevocably when one day at age sixteen, he was driven to a mental hospital, locked in a cell and injected with anti-psychotics. In a second font, Allen interlaces familial, historical, and medical contexts, seeking especially to better understand the "label" Bob received: 'psychotic paranoid schizophrenic.' The result is an utterly unique and electrifying work, one poised to change conversation about schizophrenia and about mental illness generally."

What is your earliest memory involving reading or writing? I grew up a musician — a singer — so I think I'm always thinking about how my writing sounds. I read aloud a lot, in part because I've found the tongue is a better bullshit detector than the eyes.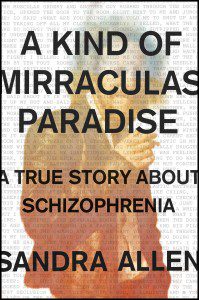 What writer past or present do you wish you could eat dinner with? Joan Didion
What writer do you wish you could share with the world? Many people in this here world already know about them and their important work, but I'm a huge fan of Alok Vaid-Menon
What are you reading right now? I'm always reading lots of books at once, some for research and some for pleasure. For the latter right now I'm reading Carmen Machado's short story collection Her Body and Other Parties and Jenny Zhang's Sour Heart, Lucas Mann's memoir Lord Fear and Jesmyn Ward's novel Sing Unburied Sing. I just finished Aaron Apps' memoir Intersex and Ada Limón's collection of poetry Bright Dead Things.
What fictional character do you most closely identify with? Bugs Bunny
Are there any quotes you use to inspire you? I often think of quotes that my uncle wrote in his life story, which my book is based on. For example I think of his story's final line: THE WORLD IS NUTS AND RIGHT NOW THATS FINE WITH ME: