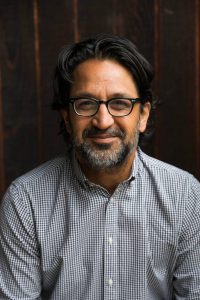 Sameer Pandya is the author of the story collection The Blind Writer, which was longlisted for the PEN/Open Book Award. He is also the recipient of the PEN/Civitella Fellowship. His fiction, commentary, and cultural criticism has appeared in a range of publications, including the Atlantic, Salon, Sports Illustrated, ESPN, and Narrative Magazine. He is an Assistant Professor in the Department of Asian American Studies at the University of California, Santa Barbara. Members Only is his first novel.
What are you reading right now for solace or escape?
I'm a big fan of a well-written sports book for escape, particularly at this time when there is so little live sports to watch. I'm rereading Andre Agassi's OPEN, but now my son is reading it with me.
If you could live inside a fictional world, which one would you choose?
I'm not sure about living, but I would love to visit Garcia-Marquez's Macondo and take a good look around.
Are there any quotes you use to inspire you now or anytime?
The last line of Naipaul's The Enigma of Arrival: "…I laid aside my drafts and hesitations and began to write very fast about Jack and his garden." In every new bit of writing, I need to put the hesitations aside. This is a good reminder.