| | | |
| --- | --- | --- |
| | THE HOUSE OF SPEAKEASY IS A HOME FOR CLOSE ENCOUNTERS OF A LITERARY KIND: A PLACE WHERE AUTHORS AND THEIR AUDIENCES COME TOGETHER IN INNOVATIVE AND SUSTAINING WAYS. MORE | |
December 6 | 7 pm | Aiding and Abetting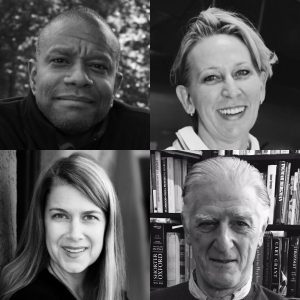 On judgment day, December 6, despite pleas of innocence, the House of SpeakEasy will be declared guilty of Aiding and Abetting another Seriously Entertaining show.
Four literary suspects will take the stand at Joe's Pub. Will 2016 Man Booker Prize winner Paul Beatty Sellout and drive a bargain, or will memoirist and chef Gabrielle Hamilton cook up an alibi in the nick of time? Novelist and National Book Award nominee Lydia Millet is set to play havoc with the jury, while author and Olympic fencer Richard Cohen demonstrates his greatest defense. Join New York's finest literary cabaret in the dock for a dramatic season finale.
ALL 2016 SHOWS HELD AT JOE'S PUB at The Public Theater at 425 Lafayette St, NYC 10003. If a show is sold out, check our website again in a few days, as extra tickets sometimes become available closer to show date. Join our mailing list for further information. You can buy tickets to our September season premiere or to any and all of the fall shows by clicking here.
› 12.6.16 AIDING AND ABETTING

JOIN THE HOUSE OF SPEAKEASY FAMILY!
ENJOY DISCOUNTED TICKETS, SPECIAL INVITATIONS, AND TAKE YOUR
BOOKS TO AND FRO IN OUR DISTINCTIVE SPEAKEASY TOTE BAG.

THE SPEAKEASY BLOG
by Charles Arrowsmith
The Sellout
Paul Beatty
Farrar, Straus and Giroux (hardcover) / Picador (paperback), 2015; 304pp
Entering the world like the bastard love-child of a Chris Rock routine and a Thomas Pynchon novel, The Sellout is a sensational satire on race relations in the United States. Its outrageous plot, which reintroduces segregation to a forgotten ghetto in Los Angeles County, motors along in the background of a series of brilliant set-pieces fueled by taboo-busting invective. Paul Beatty's Man Booker Prize triumph last month (he's the first American author thus honored) is a richly deserved boost to the book, which will hopefully find a wide readership in the years to come as a consequence ofSee More >
WE SERIOUSLY LIKE