| | | |
| --- | --- | --- |
| | THE HOUSE OF SPEAKEASY IS A HOME FOR CLOSE ENCOUNTERS OF A LITERARY KIND: A PLACE WHERE AUTHORS AND THEIR AUDIENCES COME TOGETHER IN INNOVATIVE AND SUSTAINING WAYS. MORE | |
April 6 | 9:30 pm | The End My Friend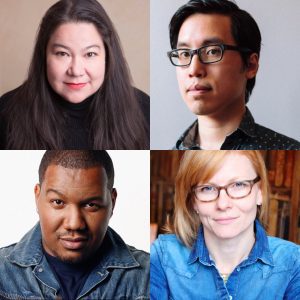 ALL 2017 SHOWS HELD AT JOE'S PUB at The Public Theater at 425 Lafayette St, NYC 10003. If a show is sold out, check our website again in a few days, as extra tickets sometimes become available closer to show date. Join our mailing list for further information.
› 4.6.17 @ 9:30PM – THE END MY FRIEND
› 5.10.17 @ 7PM – ALL TOGETHER NOW!
› 6.14.16 @ 7PM – BY THE LIGHT OF THE MOON

JOIN THE HOUSE OF SPEAKEASY FAMILY!
ENJOY DISCOUNTED TICKETS, SPECIAL INVITATIONS, AND TAKE YOUR
BOOKS TO AND FRO IN OUR DISTINCTIVE SPEAKEASY TOTE BAG.

THE SPEAKEASY BLOG
by Charles Arrowsmith
Brenda Shaughnessy's witty, moving, fiery new collection, So Much Synth (Copper Canyon Press, 2016), takes us into the past. In its longest poem, "Is There Something I Should Know?", Shaughnessy remembers a world of Simple Minds and Duran Duran songs, where she finds a young woman haunted by the changes in her body, caught in "pubescence's acrid synthesis", betrayed by her own functions and the silence of others ("No one discussed it or acknowledged it / even though we ALL READ THE JUDY BLUME"). Shaughnessy's previous work includes Our Andromeda (2012), which was a finalist for the Kingsley Tufts Award, The International Griffin Prize, and the
See More >