| | | |
| --- | --- | --- |
| | THE HOUSE OF SPEAKEASY IS A HOME FOR CLOSE ENCOUNTERS OF A LITERARY KIND: A PLACE WHERE AUTHORS AND THEIR AUDIENCES COME TOGETHER IN INNOVATIVE AND SUSTAINING WAYS. MORE | |
February 7 | 7 pm | Failing Up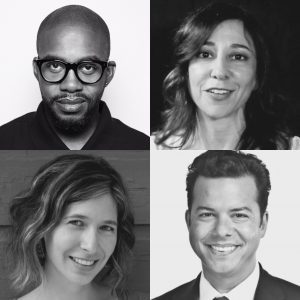 Failing to comprehend the failing state of things? On February 7, join four Seriously Entertaining writers and the House of SpeakEasy in Failing Up.
Climb out of your black hole with physicist Janna Levin and kick off The Residue Years with author Mitchell S. Jackson. Novelist and poet Idra Novey will help us all to reappear, while The Daily Beast editor John Avlon takes the Wingnuts off and begins the process of re-assembly. New York's finest literary cabaret returns for 2017 and a new era.
ALL 2017 SHOWS HELD AT JOE'S PUB at The Public Theater at 425 Lafayette St, NYC 10003. If a show is sold out, check our website again in a few days, as extra tickets sometimes become available closer to show date. Join our mailing list for further information. You can buy tickets to our February season premiere or to any and all of the spring shows by clicking here.
› 4.6.17 @ 9:30PM – THE END MY FRIEND
› 5.10.17 @ 7PM – ALL TOGETHER NOW!
› 6.14.16 @ 7PM – BY THE LIGHT OF THE MOON

JOIN THE HOUSE OF SPEAKEASY FAMILY!
ENJOY DISCOUNTED TICKETS, SPECIAL INVITATIONS, AND TAKE YOUR
BOOKS TO AND FRO IN OUR DISTINCTIVE SPEAKEASY TOTE BAG.

THE SPEAKEASY BLOG
by Charles Arrowsmith
Black Hole Blues and Other Songs From Outer Space
Janna Levin
Knopf, 2016; 256pp
The romance of the cosmos is the subject of Black Hole Blues. The romance of bodies of unimaginable size colliding and merging darkly and silently in space. Romance, yes — but also the knotty bureaucracy that has hampered and enabled scientists for the last five decades as they've grappled with one of astrophysics' most notorious what-ifs. Might we ever hear a gravitational wave? If you've never even heard of a gravitational wave, then Janna Levin is here to help. Part oral history, part popular science, her brilliant book's 250 pages shuttle by at a pace untypical of physics writingSee More >