The Shroud of Turin. An Ohio ghost story. "I Saw Mommy Kissing Santa Claus." Basketball with Xenophon and Achilles. Things that should or shouldn't be done with a Philadelphia Eagles hat. Just five of the things that aliens landing at City Winery last Monday might have taken away from their close encounter with humanity. The House of SpeakEasy welcomed six more amazing writers to discuss the theme No Return: best-selling horrorist R.L. Stine, poet A.E. Stallings, author Ben Yagoda, novelist Ian Caldwell, and comedy writer Meredith Scardino. Special guest host Joan As Policewoman was the quizmaster for this month's Tip of My Tongue competition.
"I did a book signing here in New York a few weeks ago, and a librarian came up to the table, and she said, 'May I have my picture taken with you? The kids all think you're dead.' That's why I'm especially glad to be here tonight…" R.L. Stine, most famous for his horror books, was the hilarious opening act. (Prior to his prolific, mega-selling horror career, Stine wrote around a hundred joke books for children.) But, as he revealed, "Once you enter the land of the scary, there's no return…"
Stine took us back to his childhood in Ohio to reveal one of the inspirations for his career in horror. "I'd never really been in a dead man's house…" he began, but then Mr. Wilson down the street passed away, and one open door led to another. The spooky environs of Mr. Wilson's house gave Stine an idea for getting back at his hated cousin Stanley. "'Here's what I'm going to do,'" he said to his brother, Bill. "'You, after dinner, sneak over to Mr. Wilson's house, go into his house, get into his bed, and cover yourself up completely in his covers. And then I will dare Stanley to come over there. I'll say, "I bet you're too scared to go to a dead man's house." When I bring him in, I'll bring him into the bedroom, and then you… slowly… sit up under the covers. Slowly sit up and say, "Get outta my house!"' And Bill thought this was a great idea. We both thought this was a great idea…" An excellent plan. But in execution, rather spookier than planned…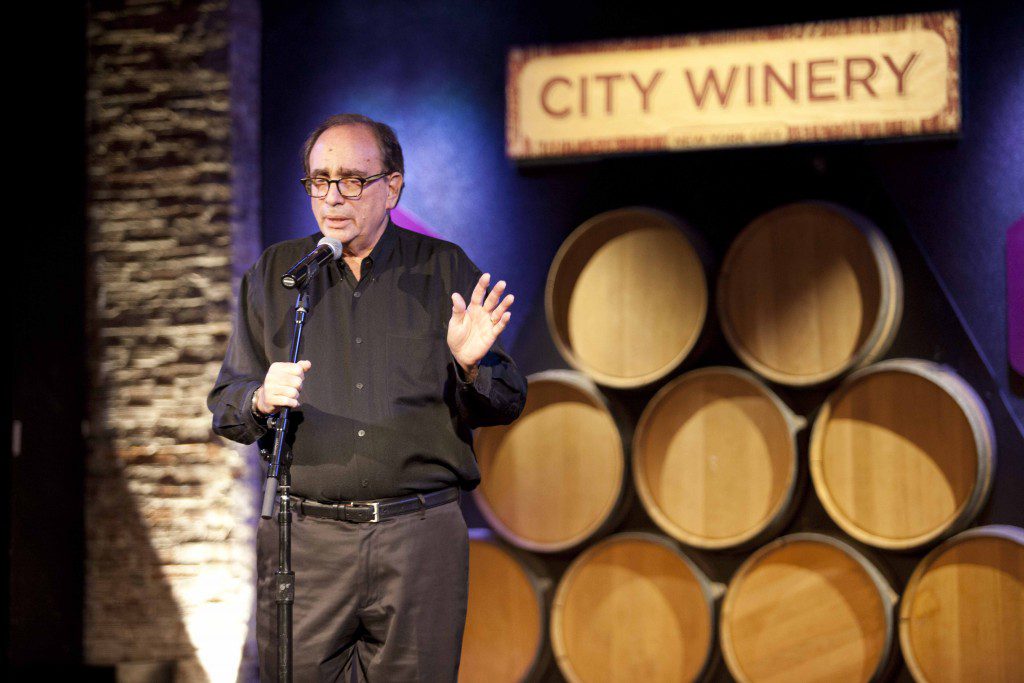 The poet A.E. Stallings had no problem with the evening's theme because No Return "is all poets ever write about!" Stallings moved to Greece in 1999 ("when Clinton was being impeached"). When people ask what brought her there? "It's the usual reason: it's the Greek husband. And that's been going on for a long time. Since, like, Medea… Not always well."
As an expat and a classicist, Stallings proved to be intimately familiar with the concept of No Return. Moving abroad, pregnancy, having children; many experiences can make it hard, if not impossible, to go back. Not that life abroad doesn't have its imaginative perks. "My son Jason is on the basketball court playing basketball with, like, Xenophon. And Achilles is crying in the corner and won't go back into play. We're on the playground and there's some mother shouting, 'Orestes! Orestes! Come over here now. Antigone! Get out of the sandbox…'"
Watch Stallings' performance in full here to learn more about life in Greece, and to hear poems from her 2012 collection Olives (TriQuarterly Books).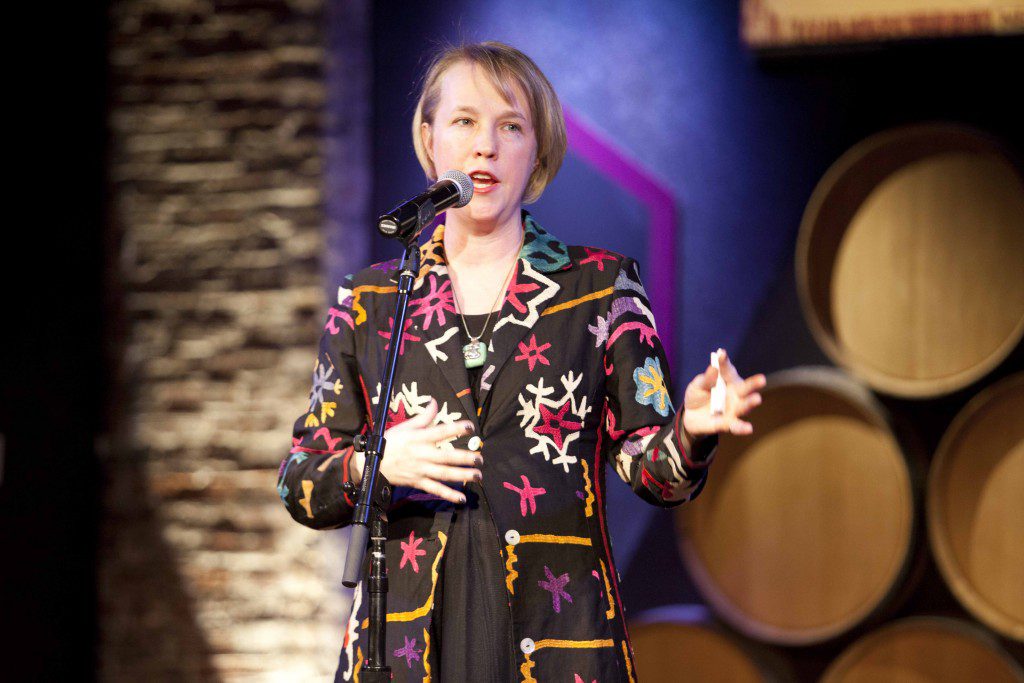 "American popular song: when did it reach the point of no return? I'm gonna say that it came at a particular spring afternoon in 1954. It took place in an office in New York City, and the office belonged to Mitch Miller…"
Ben Yagoda's fascinating new book The B-Side: The Death of Tin Pan Alley and the Rebirth of the Great American Song (Riverhead Books) tells of a series of turning-points in the history of American songwriting. In his presentation to the House of SpeakEasy, he took us back to just one of them, and "the person who emblematized the change from a song-oriented popular music to a record-oriented popular music…"
Mitch Miller, a one-time classical oboist but "at the time the most powerful man in American popular music," was the A&R man (artists and repertoire) at Columbia. On his first hit, "he simulated the sound of a cracking whip by putting two blocks together; he put in odd instrumentation like harpsichords; he had over-dubbing; on a song called 'Cry of the Wild Goose,' he simulated the sound of crying geese with french horns…" This was the age of "I Saw Mommy Kissing Santa Claus." Poor Arthur Schwartz, who had written a range of great standards in his career, including "Dancing in the Dark" and "You and the Night and the Music," and was the man there to meet with Miller, stood no chance…
Watch Ben Yagoda's story here.
Joan As Policewoman was the special guest host for this month's Tip of My Tongue competition. You can participate too! Just watch Joan As Policewoman reading from the classics here, and then take a guess. If you want to know the answers, highlight the hidden text below…
Excerpt 1: The Fellowship of the Ring by J.R.R. Tolkein
Excerpt 2: "Ozymandias" by Percy Bysshe Shelley
Excerpt 3: 2001: A Space Odyssey by Arthur C. Clarke (and Stanley Kubrick)
Visit Joan As Policewoman's website to find out about her new album, The Classic.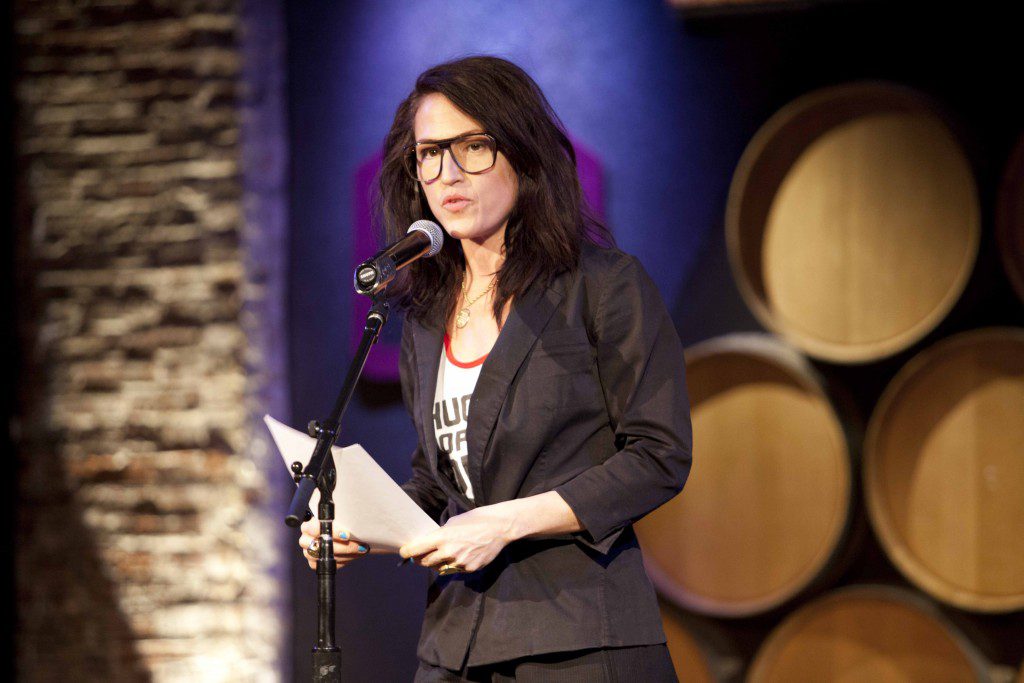 Ian Caldwell's new novel, a Vatican-set thriller called The Fifth Gospel, told with a forensic pathologist's attention to detail, was a decade in the making. Over the course of his epic research mission, he picked up on a number of contradictions in both secular and religious history. "We modern secular people are much more likely to think in binaries," he said. "Everything's a fact, or it's fiction… I think we all sense that these categories are unhelpful. In a way, we're glossing over the subtle and nuanced importance of what's really there by constantly having to dichotomize things. The Catholic Church is much more comfortable with a grey area in between…"
This zone of doubt has allowed for the proliferation of a whole range of mysteries and weird coincidences. Consider the strange case of the Swiss Guard murder-suicide of May 1998. Unprecedented? Hardly. The same thing happened fifty years earlier. And fifty years before that. Roughly every thirty-one years someone tries to bomb St. Peter's Basilica. Exactly every one hundred years, an art professor is caught trying to sell pictures cut out of a Petrarchan manuscript from the Vatican Library. The greatest mystery of all, though, concerns the Shroud of Turin…
Watch Ian on the history of Vatican crime here.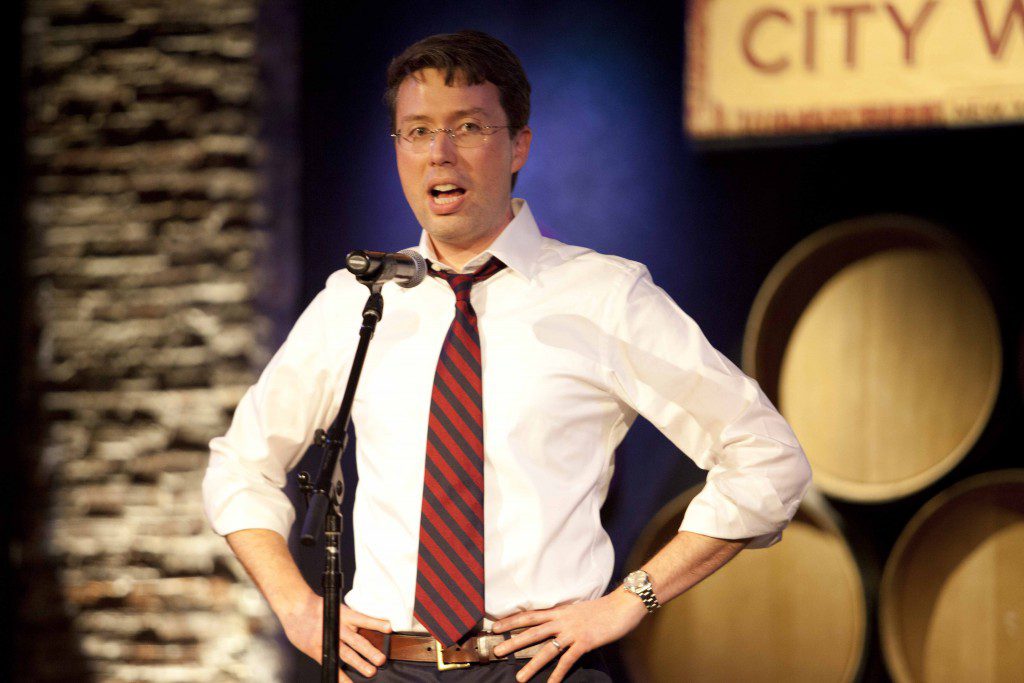 "I'm a comedy writer, and I also try to be a person," began Meredith Scardino, who has won four Emmys for her work on The Colbert Report, and whose new show Unbreakable Kimmy Schmidt (she's executive story editor) is enjoying huge popular success on Netflix. Sometimes, though, that can be a challenge. "The theme is No Return," she began, "and I was thinking how there's a lot of stuff I've done in the past that I kinda feel terrible about. So I did a little inventory, and I just thought I'd share with a room full of strangers some of my worst moments as a human…"
Without wishing to ruin a series of great gags, there're confessions from tennis camp in sixth grade ("I don't even know if they were Japanese; it could have been extra offensive…"), a New Year's Eve party sans toilet paper ("probably not the worst thing that's ever been done with an Eagles hat"), and from the front line of a real-life Rear Window situation ("I watched the whole thing")…
Watch Meredith Scardino spill her regrets here.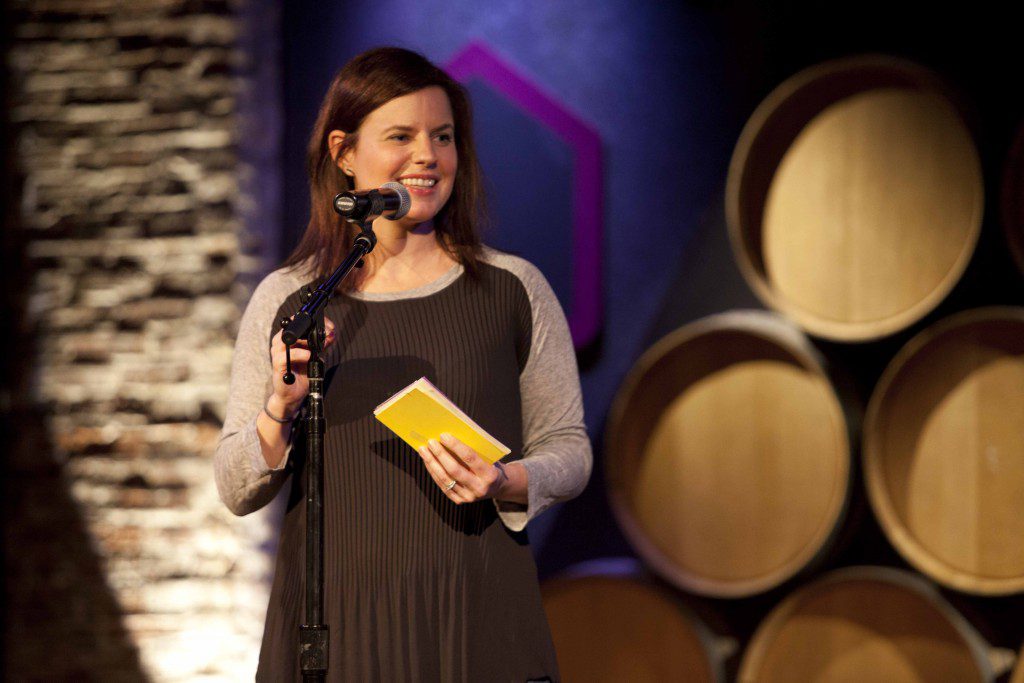 Join us for another Seriously Entertaining show on April 21 at City Winery NYC when we will be joined by Lisa Robinson, Branden Jacobs-Jenkins, Tom Rob Smith, Amber Tamblyn, and Elif Shafak. Tickets available here.